John Shea, Watercolour Artist
Date Published: Tue, 01 Dec 2015
Landscapes Illustrate that Less Can Be More
In 1855, poet Robert Browning penned the phrase "less is more." In 2015, John Shea continues to demonstrate that Browning was right. Shea's compelling use of negative space in his architectural paintings contributes to his recognition throughout Ontario and beyond.
Shea's original perspective on winter landscapes that feature local heritage buildings has just earned him an impressive honour. His works placed him among the top five sellers during the 25th annual Autumn Art Sale at the McMichael Canadian Art Collection in Kleinburg a few weeks ago. In addition to his framed ribbon, his success guarantees him a prime spot at next year's prestigious event.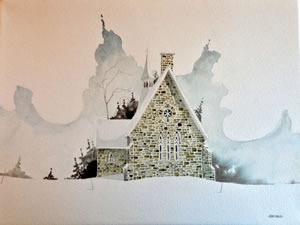 Painting with watercolours on paper, Shea renders striking architectural portraits of 19th century Eastern Ontario stone buildings. His gift for subtraction is the signature feature of his work that first-time viewers invariably note. The absence of distraction highlights the sculpture of the structures and adds to the serenity, and occasionally the drama, of the scene. On his website <john-shea.artistwebsites.com>, Shea quotes renowned 20th century artist Andrew Wyeth as saying, "What is important in a painting is what is not there."
Another Wyeth quote explains the sense of mystery that Shea's portraits often evoke: "I prefer winter and fall, when you feel the bone structure of the landscape. Something waits beneath it; the whole story doesn't show." In a very real way, Shea's paintings speak to the Canadian experience of winter. The "bone structure" of heritage buildings isolated in rolling expanses of white snowdrifts suggests both the serenity and the underlying menace that Arctic temperatures and unpredictable weather pose. It seems fitting that his works are popular at the McMichael, where viewers come to celebrate the quintessentially Canadian landscapes of the Group of Seven.
Learning to Subtract
When Shea was a kid growing up in Montreal, his high school math teacher told him, "Shea, you're never going to amount to anything if you keep skipping math class." Undaunted, Shea continued to spend all available time in the art room. After graduation he attended the School of Art and Design at the Montreal Museum of Fine Arts and won a scholarship for his second year of studies. He remembers Dean Arthur Lismer strolling the classrooms, commenting on students' works.
As a result of the 1970 FLQ October Crisis, Shea's parents moved to Perth, and John started making regular weekend visits. He bought an old, one-room schoolhouse in Bolingbroke (south of Maberly), and spent the next twelve years living in a constant state of renovation. Later he lived in a house on Farren Lake. After earning a diploma in interior design at Algonquin College, he joined the Ottawa firm of Saunders and MacFarlane, where he produced architectural renderings and presentation drawings for four years.
Despite (or maybe because of) the dire predictions of his math teacher, John had always wanted to teach. He applied to Syracuse University and was accepted as a third-year student to acquire the prerequisite BFA degree, after which he earned his B.Ed. at Queen's University. He looks back with pleasure at his 25 years of teaching art at St. John Catholic High School in Perth. "I loved empowering them with the basic tools of art, especially perspective." He brought his guitar and banjo into his grade eleven interior design class, and serenaded students as they worked on models of significant projects such as condos and commercial structures.
In 1998, Shea moved to his present location at Rosal Bay on Newboro Lake. It is a stunning location and an amazing house. With his wife Karen and daughter Molly, they have created an oasis of beauty for all seasons. Karen is an accomplished gardener, and even in October the evidence of her expertise and hard work is apparent. John creates his unique watercolour compositions at their dining room table overlooking a scene of breathtaking natural beauty. Gazing out at the magnificent view he enjoys, I sense the influence it exerts on his exceptional art.
Shea tells me that a major component of his work is his love for the integrity of the stone that he depicts. "Whether it's a simple wall, a bridge or an elaborate building, it's the permanence of the stone that makes my subjects timeless." He values composition, line and balance over colour and texture, presenting a traditional subject in a modern and highly original way.
Many people are surprised to learn that he paints with watercolours on paper that he wets, stretches on board and frames himself. He loves the spontaneity and the challenges his choice of medium provides: "With watercolour you can't go back, you can't cover mistakes, it's in the moment."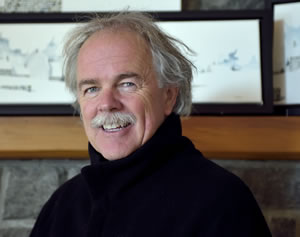 Less Is More
In 1947, architect Mies van der Rohe appropriated the phrase "less is more" as a fundamental precept for Minimalist design and architecture. Minimalism in visual art emerged in New York in the early 1960s, and the use of negative space became a key component. In design, negative space is the breathing room around the subject that draws your eye to it, and determines how appealing it looks. In John's paintings, composition is paramount, and he is a master of subtraction. With his selective use of emptiness he accomplishes two things. He invites us to examine his masterful capture of architectural subjects, and he creates a sense of mystery. We are intrigued by what is not there; we are seduced into providing our own interpretation of the blank spaces. As John puts it, "Where there is nothing, there is everything."
He began showing his works at art festivals in 2009, and discovered how much he enjoyed the camaraderie of fellow artists. He especially values the feedback he gets from the people who stop to look at and enquire about his paintings. He recalls a conversation one afternoon with a widow who was struggling to convert her husband's favourite room into a meditative space for herself. She showed up at 10:00 the next morning with tears in her eyes to tell him that she had had a dream about the painting she had been considering, and she bought it.
An online stop at John Shea's website is likely to result in a scenic drive to his spectacular setting at Newboro Lake to witness his mastery of the art of subtraction.
Get in touch
For full contact details, visit theHumm's Local Directory.
Humm profile by Sally Hansen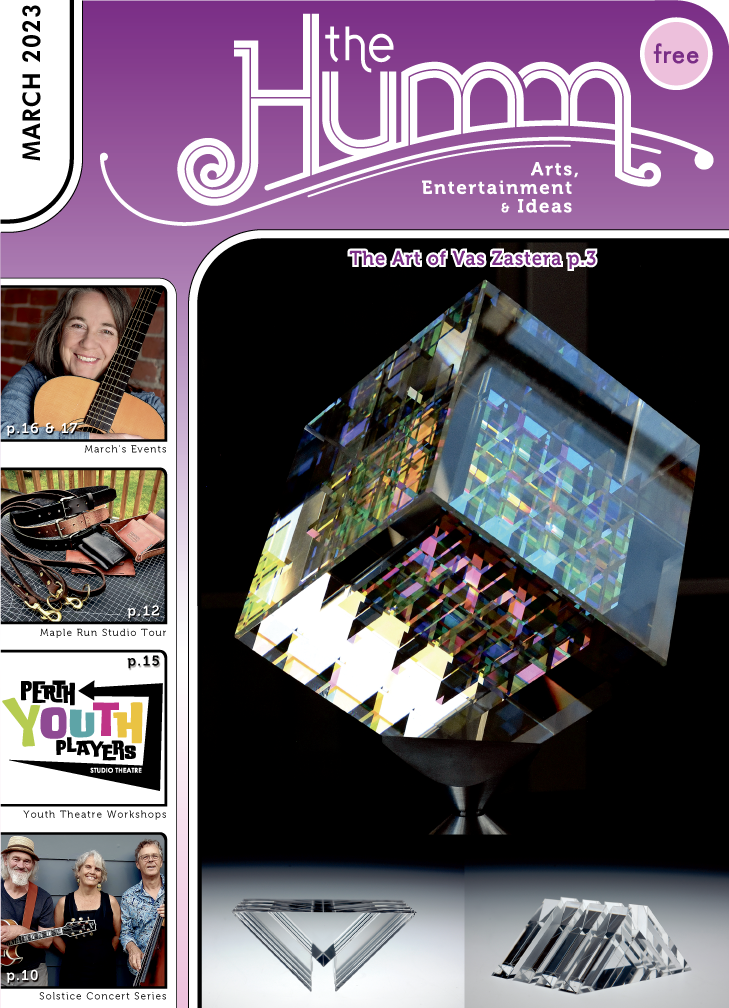 (pdf)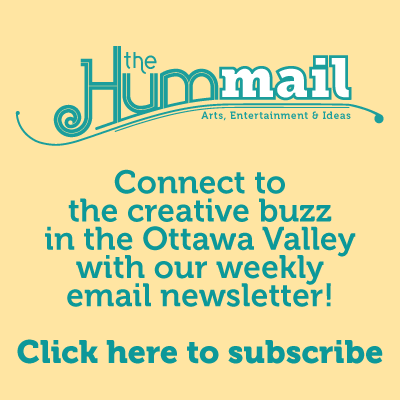 March 2023