Elizabeth Veninga - Mixed Media Artist
Date Published: Tue, 01 Jan 2013
Exploring the Enigma of Elizabeth Veninga
Peeling back the layers of Elizabeth Veninga's life is like reading an intricately constructed, beautifully textured and very rewarding biography. I thought I was interviewing an artist who paints wonderful Canadian landscapes with red canoes, and who gives art instruction in an encouraging, relaxed way. She does. In a way, that's like saying Leonardo da Vinci painted a lovely portrait and illustrated a book on mathematical proportion in art. He did.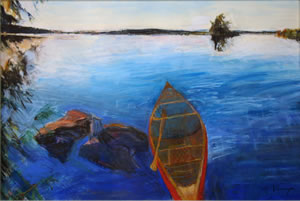 Veninga will be embarrassed by this article, because she does not toot her own horn. That may be in part because her father, William Robinson, was the Anglican Bishop of Ottawa, and Elizabeth embodies many Christian values like humility and the "importance of sharing your life and reaching out to others." More of that later; first, more about her art.
Like da Vinci, Veninga is profoundly observant of nature. It inspires much of her art — paintings, steel sculptures and most recently, photography. Her mixed media landscapes illustrate her love of the drawn mark — direct, free gestures that capture the mood, texture, and feel of place. She experiments and innovates; combining acrylic paints with acrylic inks, charcoal, Conté, soft pastel, watercolour sticks and gesso.
At the modern home of Gaye Bennett and Bryn Matthews on the edge of the Mississippi River, I was privileged to enjoy Veninga's felicitous river-edge painting. The commissioned 7' x 3½' work hangs high in the kitchen, visible throughout much of the open-concept, high-ceilinged main floor. As the day fades from view outdoors, Veninga's painting draws the healing power of nature indoors.
In 2006 Elizabeth won a Mississippi Mills competition to create a mural honouring the philanthropic couple Art and Elsa Stewart, who were awarded the Order of Canada in the '80s. The mural was installed on the main street of Pakenham in 2006. When the upscale department store Les Ailes de la Mode moved into Bayshore Shopping Centre in Nepean, she was commissioned to celebrate its presence in Ottawa. Veninga created ten paintings for their special in-store restaurant. Her 14-foot diptych portrays two views of the Ottawa skyline — from Hull and from Victoria Island. They also installed her charming portraits of the Bytowne Market, Bluesfest, and "Skating on the Rideau". In 2008 she had a solo show at the Mill of Kintail, featuring her painting, metal sculpture and photography.
Red canoes became her muse after she and her late husband, Albert Veninga, restored an old canoe in all its red glory. After Albert's untimely death, Elizabeth painted a scene featuring their red canoe as a gift in repayment for a kindness by a canoe-builder friend. Since then this Canadian icon has found its way into many of her landscapes, always rendered exquisitely and effectively.
A Meandering Path to Art and Soul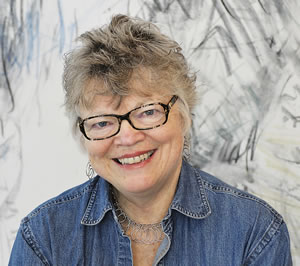 The constants that have grounded Veninga in a life that has followed many twists and turns are her Christian spirituality and her love of art. Both her parents encouraged and supported her early love of art. During high school she designed and sewed her father's red Pentecostal priest's stole, created cards, brochures and invitations, and made a carved and painted wooden Victorian fireplace screen for her godmother.
After completing a degree in Biology and English at Trent University, Veninga worked as an assistant curator for National Historical Sites, saving money to study art and "really experience Europe." She learns (and teaches) "by doing," and thoroughly enjoyed her classical training at the prestigious Camberwell School of Arts and Crafts in London, England. It was there that she discovered her love of sculpting in metal, when she encountered welding among the skills and techniques she explored.
Mixed media painting became her artistic mainstay upon her return to Toronto in the '80s, where she had a studio and eventually worked for the Klonaridis Gallery. Her love is creating art, not selling it, and in order to support herself she studied horticulture at Humber College, trained as a gardener, and worked at Cullen Gardens in Whitby. After a third gardening job in Guelph, she wearied of the fact that "gardeners did not share my interest in art," and went to Teachers College at Lakehead University in Thunder Bay. That summer she spent nine weeks in a canoe working at Quetico Provincial Park.
When she came to Pakenham twenty years ago, she lived for six months in her parents' cabin in the woods without running water or electricity. She remembers it as "having a 20th century job (supply teaching) while living in 19th century conditions. She moved into The Five Arches Apartments in Pakenham, where she met Albert Veninga who was playing the guitar and singing at one of the communal birthday parties. They eventually moved onto the property known as the Stonebridge Inn, above the former antique store at 4839 Kinburn Side Road. Elizabeth is a performing flutist and chorister, and the two made beautiful music together until his tragic death four years later.
Recalling her intense grief, she states flatly: "Meditation is one of the most profound influences in my life." Years before, during a difficult period in her 40s, her father had gently encouraged her to consider meditation. As she recalls it, "He sat down and wrote for about an hour — then he handed his guidelines to me with no pressure, and said, 'Try it. It may suit you.'" Today she practices meditation for 25 minutes twice daily.
Veninga also practices what she believes in — "the importance of sharing your life and reaching out to others." She loves working with people and is an ardent believer in community. She leads a weekly Christian Meditation group at St. Paul's Anglican Church in Almonte. Like her father, her teaching is not prescriptive; she guides people in discovering their own spirituality and tapping into their own strengths. She also facilitates a monthly Parkinson's Support Group sponsored by Mills Community Support – Home Support (256–4700). She became self-educated on the subject while caring for a woman suffering from the disease.
Those same attributes of caring and sharing characterize her art classes. She is encouraging, fostering an attitude of "just try it — you can do it," motivating students to experiment and discover their own capabilities, and to learn from each other. You can reach her to enquire about her upcoming classes in "Drawing for Fun", Mixed Media Painting" and "Life Drawing". Try it. It may suit you!
Get in touch
For full contact details, visit theHumm's Local Directory.
Humm profile by Sally Hansen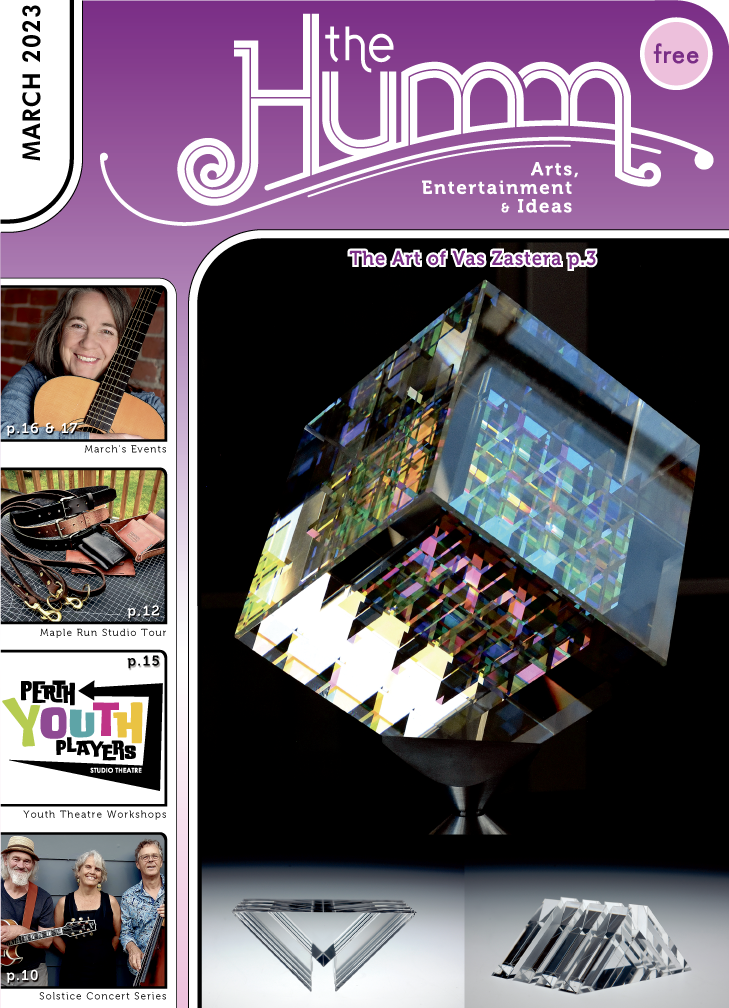 (pdf)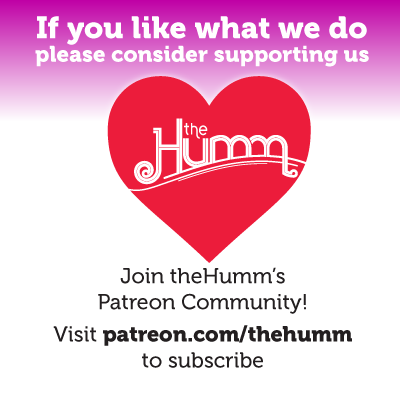 March 2023