Sherry White, Mixed Media Artist, Sculptor and Graphic Designer
Date Published: Sat, 01 Feb 2014
Sherry White - Art Illuminates Meaning
In 1943, in his classic The Little Prince, Antoine de Saint-Exupéry wrote: "Each man must look to himself to teach him the meaning of life. It is not something discovered: it is something molded." Mixed-media artist Sherry White echoes his insight when describing her personal journey of discovery through her art. "Art is my path, a part of my soul." It is the vehicle by which she is exploring humankind's age-old mystery: the meaning of life.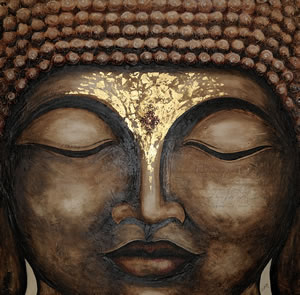 With her transcendent paintings White creates an atmosphere of tranquility that is a balm and an invitation to the soul. Her mixed-media works shimmer with energy. The subjects are as diverse as her spiritual explorations. Buddha, geishas, trees, birds — in her artist's bio she describes her work: "Pulling from her connection to Mother Earth and her spiritual search, she creates works of art that evoke feelings of peace, warmth, and serenity."
Her canvases reflect her ongoing quest for answers to questions many of us avoid by playing the game of life in a much different way. Instead of surfing the web or flipping on the TV or going to the mall, White sits down with a blank canvas and ponders the ineffable. Sometimes inspiration comes from a conversation, sometimes from a saying, sometimes from an image, often from her subconscious.
Years ago, an old friend showed her a portrait of Buddha that the friend had painted. Sherry remembers the visceral reaction she had to the image. Her immediate response was to start experimenting with her own portrayals of the spiritual leader, and to delve further into his teachings. Like Buddha, White is seeking a path of spiritual development, searching for insight into the true nature of reality. She explains that: "My whole journey is about Why? Why are we here?"
White's art is both her path and her meditation. As she puts it, "I was born into this world an artist. It is in my bones, in my thoughts, a part of my soul." Her earliest memories are of copying cartoons and sketching faces as a child. A true Valley Girl, Sherry was raised in Lanark. Her Prussian ancestors had settled near Plevna (about 80km northeast of Perth) around 1870, and Gorr Mountain is named after them. As a student at Perth and District Collegiate Institute, Sherry's favourite subject was art. She vividly remembers her teacher, Mrs. White (no relation), putting on a Cat Stevens recording and gently encouraging her students to create. "I thought she was a hippie," Sherry recalls fondly.
After high school, Sherry moved to Gatineau to start a family with her musician husband. When the marriage ended, she attended design school in between her responsibilities as a single mother of three small children. Her talents earned her a job in high tech at Systemhouse. When the company downsized ten years later, White formed her own graphics design company and continues to freelance. Check out <whitedesigns.ca> to see the range of services she provides.
Music continues to play a big role in Sherry's life, not only as a muse to her art but in her role as a backup performer with her sister, singer/songwriter Peggy White of Almonte. They both remember their mother and father belting out country tunes in their dining room, and they and their other three siblings carry on their parents' love of music.
When her kids were still young, Sherry began to nourish her own soul by painting, taking occasional oil and watercolour classes. Following a clay sculpting class at the Ottawa School of Art about ten years ago, she started creating wall sprite planters and discovered they were a huge success at artisan shows around the Ottawa area. It struck me that even her whimsical sprites exude an aura of inner peace and contentment.
A few years ago, a course with artist Christina Lovisa spurred White's experimentation with mixed-media techniques to a new level. Her recent works, featuring copper wire trees against surreal skies, invite the viewer to visualize new beginnings, new paths. The juxtaposition of phrases or words in some of her works also stimulates the imagination. By giving herself the freedom to explore the possibilities of layer upon layer of different mediums, she has "found her artistic groove."
A Circuitous Path
Seven years ago, Sherry moved from Gatineau to embark on another venture with her sister Peggy. The two opened The Groundz Juice Bar and Café in the centre of Almonte, creating a venue for art, music and interesting light refreshment. After a few years, both concluded that running a café was not where their paths were destined to take them. After selling the business, Sherry moved to Stittsville, where her multi-talented partner has been converting their home into an amazing space, ideal for showcasing Sherry's mixed-media art.
The atmosphere they have achieved is remarkably soothing; it feels like a refuge for the soul. My reluctance to leave makes me realize that White has achieved her artistic goal of evoking "feelings of peace, warmth, and serenity." I am tempted to contact the proprietors of her two recent exhibitions to enquire whether they noticed a change in ambiance while her paintings were on view.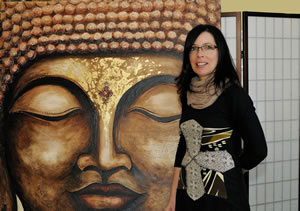 In the 4th century BC, Plato defined man as "a being in search of meaning." Today the literature and the press are replete with humans' ponderings about the effects of our new, ubiquitous and constant wireless connectedness. Is it at the expense of our connectedness with ourselves? Living in the presence of one of Sherry White's compelling art works just might open the door to a richer contemplation of the meaning of your life.
You'll find even more images of her work here on theHumm Online. To fully experience the emotional pull her pieces exert, see them as she created them at Equator Coffee Roasters in Almonte during the month of May.
Get in touch
For full contact details, visit theHumm's Local Directory. Remember that you can also collect this month's Artist Trading Card from the print Humm!
Humm profile by Sally Hansen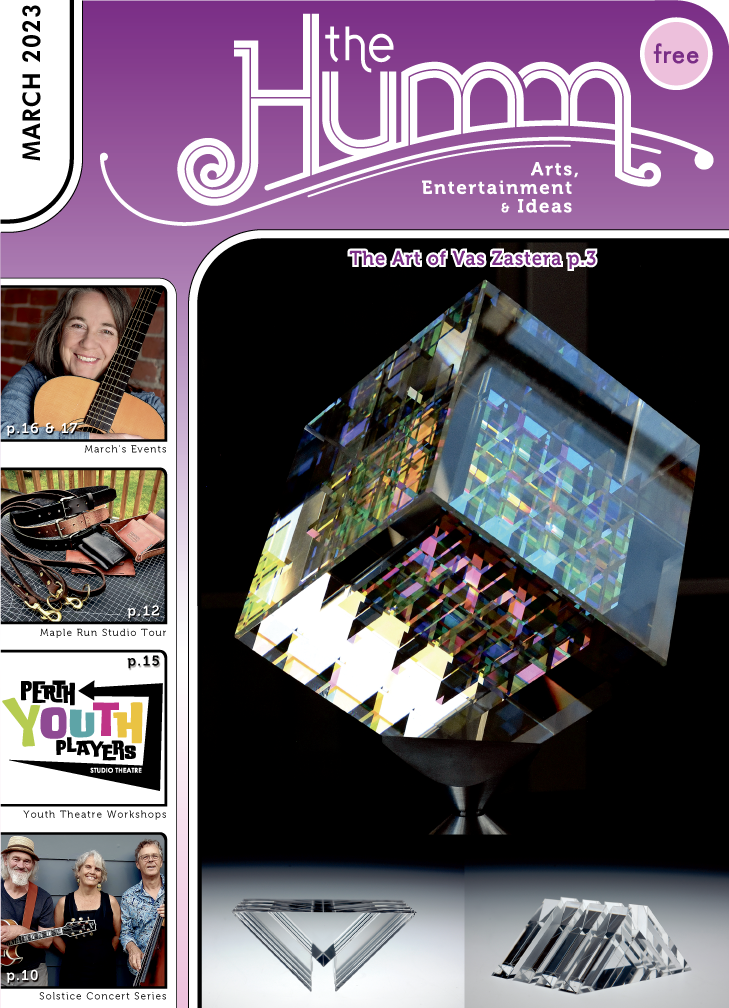 (pdf)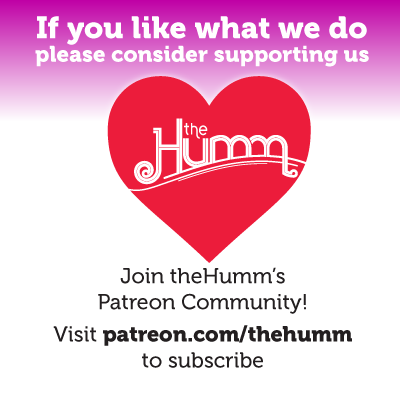 March 2023