Rosy Somerville - Painter
Date Published: Thu, 01 Nov 2012
Rosy Somerville - Capturing Essence with Watercolours
It is not my wont to quote artists' statements in my articles for theHumm, but I make an exception this time. Rosy Somerville is an artist and art instructor whose first love is watercolour. After an absorbing and educative conversation with her, I revisited the artist's statement she provides on her home page at rosysomerville.com and realized that I cannot improve on her summation of why she is a watercolour artist: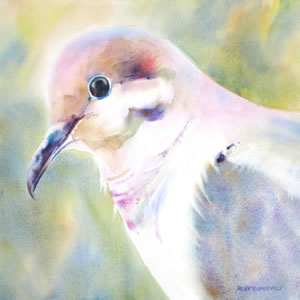 "Painting is for me a meditation. I love the challenge, the unique movements of the medium, the contrasts of control and unpredictability, the total focus it demands. I enjoy the tension between working within rules, and allowing intuition to speak. I work mostly in the studio, but like to paint in nature en plein air. Through the play of light and dark, of colours, shapes, textures, lines, the defined and the undefined, the stated and the implied, I attempt to capture some essence of my subject, be it in nature, people or objects."
The challenges presented by her preferred medium are precisely what makes watercolour the perfect choice for her artistic self-expression. Anyone who has tried it knows that, unlike painting with oils or acrylics or chalk or coloured pencil, painting with watercolours involves a willingness to take chances with a fickle and capricious partner. As Wikipedia puts it, "The difficulty in watercolour painting is almost entirely in learning how to anticipate and leverage the behaviour of water, rather than attempting to control or dominate it."
The wide variety of paintings adorning her home gallery and classroom are a testament to her mastery of her medium. They range from vivid abstracted landscapes, to muted portraits of people and birds, to still life renditions of shoes and floral bouquets. Each is remarkable for its tangible success in portraying the essence of its subject; I understand exactly what Somerville means when she writes about "the defined and the undefined, the stated and the implied." Nowhere is this more evident than in her portraits of people. One glance at "Bridget" and you truly wish you were a friend of this wise, caring woman.
The Teaching Gene
Rosy's innate tendency to educate is obvious as she points out the different techniques she uses to leverage the behaviour of water on various papers and other "canvases." In general, she prefers the luminosity she can achieve with the transparency of watercolours, but is thoroughly knowledgeable about other options. She paints with acrylics and oils, but returns most frequently to her roots in England where watercolour painting has flourished since the 18th century.
Born in Beaconsfield, Buckinghamshire, not far from London, Rosy is the daughter of two educators. Her mother in particular encouraged creative thinking, and Rosy's drawing kit was her constant companion as a youngster. She remembers spending hours creating meticulously representational studies of flora and fauna. After completing the foundation year of a Diploma in Art and Design, Rosy studied European Literature at Warwick University. Although she now recognizes that she inherited the familial teaching gene (her grandparents were also teachers), she decided to live in India for a while instead of embarking on a teaching career. When she returned to England in her late 20s to put down roots, she chose a career in graphic design; her clients included many large pharmaceutical companies.
Romance in the form of a Canadian serviceman brought Somerville to Canada in 1996, and the couple are now happily situated in a lovely home at the edge of Carp where her husband Ian can photograph birds (and a black bear!) from the back patio.
Rosy's watercolour epiphany occurred in 1999 when she took a watercolour course. "Something about the way the paint moves on the paper, the translucency, the infinite possibilities of so many techniques and chemical interactions, the whole process of exploring my subject — when I'm painting, I forget the outside world entirely. It takes me to my peaceful place where I'm completely happy."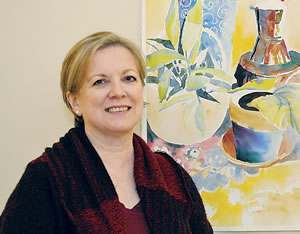 By 2005 she began showing her work at venues like the Ottawa Art Festival and the Tulip Festival. A friend saw her work and introduced her to the Arts Director at the Visual Arts Centre in Orleans, where she lived at the time. They told her she should be teaching, and she continued to teach watercolour art at the OSA (Ottawa School of Art) Shenkman Centre in Orleans until last year. Now she teaches at the Nepean Creative Arts Centre and offers both beginner and intermediate courses from her home studio in Carp.
When I asked her what she thought was the most important thing she could teach her art students, Somerville responded, "to connect with and express their inner joy through this versatile medium." This sounds like a course worth taking. According to a recent article at <slate.com>, palaeontologists and researchers in neuroaesthetics tend to link the development of modern human cognition to the origin of our ability to express ourselves as artists and historians through cave painting, sculptures and other prehistoric art. Representing the world in symbols may have heralded the beginnings of language. Rosy has an innate ability and deep urge to express herself through her art, and to share her gift for doing so with others.
Red Trillium Studio Tour
Since 2005 Rosy Somerville has had many solo shows, won awards, and participated in juried shows like Centrepointe Theatre City Gallery, Selections with Arts Ottawa East, the OSA annual Instructors' Exhibitions, the West Carleton Arts Society Fall Show & Sale, and the Glebe Fine Art Show.
Each year, Rosy's studio at 175 Charlie's Lane in Carp is a stop on the Red Trillium Fall Studio Tour, where she tends to also host other artists.
To enquire about watercolour art instruction, contact Rosy directly. The potential for discovering your own artistic essence exists.
Get in touch
For full contact details, visit theHumm's Local Directory.
Humm profile by Sally Hansen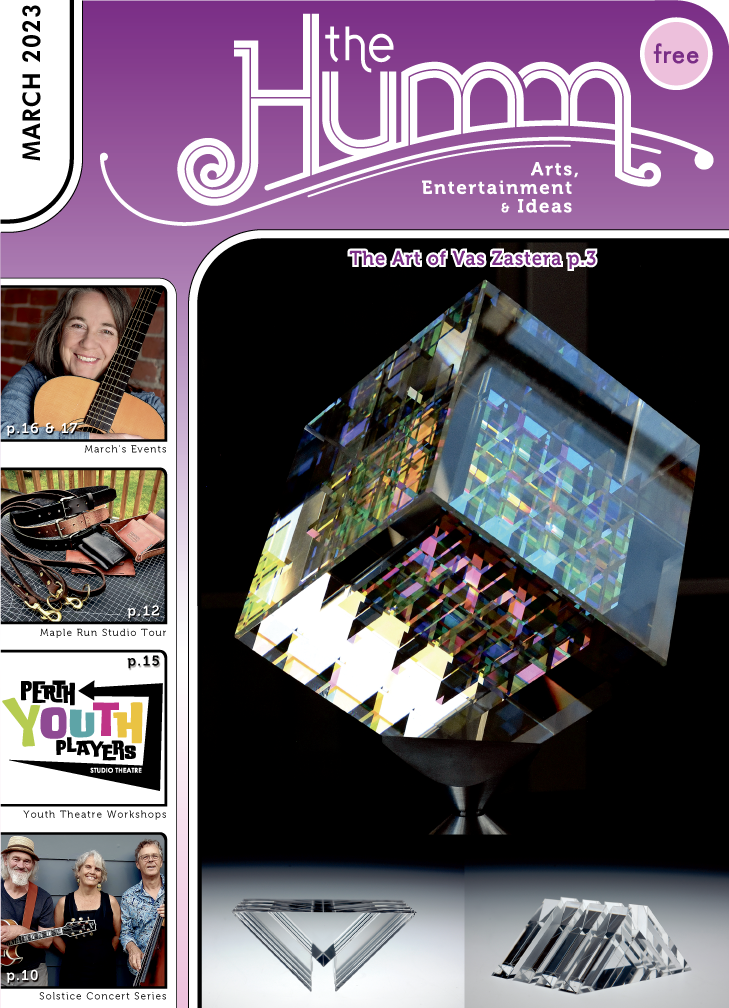 (pdf)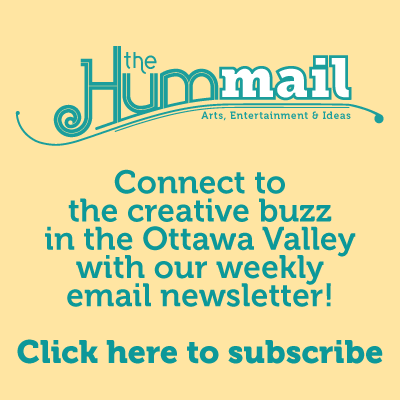 March 2023