Karen Phillips Curran - Watercolourist
Date Published: Mon, 01 Jul 2013
Karen Phillips Curran - Chasing Light
"LIGHT; dappled light, winter light, crisp autumn light, summer light, spring light… all my muse. My watercolours are about time, and that magic moment when some-thing ordinary makes you catch your breath, if you take the time to pause, to look. I tell the story of what is often passed by."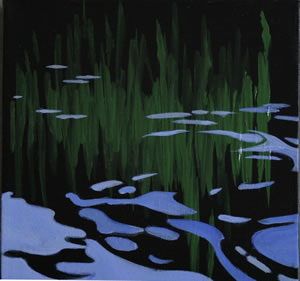 Karen Phillips Curran is an accomplished and eclectic storyteller with her paints. Her stunning portfolio of watercolours establishes her as a gifted artist, renowned in Bermuda as well as the Ottawa Valley. At her online gallery at <riverstones.ca> she has organized her works into eight categories, revealing the breadth of her artistic pursuits. She is best known for her striking watercolour renditions of river stones, and another collection of architectural paintings that celebrate the play of light and shadow on the often-overlooked.
Her "New Works" are pastoral and painted in acrylics. They are gloriously gestural — but the antithesis of studies or sketches. Instead their simplicity and vibrancy showcase Karen's profound knowledge and maturity as a painter. They capture the essence of their subjects, causing us to look with new eyes and wonder at familiar scenes.
This rich body of work is just one facet of Phillips Curran's art. As head scenic painter at the National Arts Centre for almost fifteen years, she has transformed theatre sets into venues that transport an audience to a 1930s kitchen and a 19th-century manor. Under my deft questioning she admits she values the moment the audience broke into spontaneous applause as the lights came up on the set she painted for Shaw's Arms and the Man.
In the theatre she has developed an appreciation for the sense of the monumental in her work, eschewing perfectionism for readability and impact. She has also learned even more about her favourite subject: light. With scrims (think filters if you're a photographer), she can paint an image that is visible or invisible, depending on the stage lighting. Karen has participated in the creation of new exhibits for such prestigious institutions as the Canadian Museum of Nature, the Canadian Museum of Civilization, the Museum of Federation and the National Gallery.
Opening her refrigerator would reveal yet another facet to her boundless creativity. Karen keeps her Polaroid film there. She finds alternative photography fascinating, with its ability to transfer images onto any solid or non-porous surface. She explains, "My Polaroid image and emulsion transfers are versatile, and very expressive. I use them extensively to illustrate ideas of elusive, but evocative scenarios. I love the intricate, vivid, malleable imagery this medium can produce. I treat them as mixed media pieces by combining them extensively with watercolour and coloured pencil."
She adds that when she creates art she thinks first and foremost as a watercolourist. Whether she is using acrylics or latex scenic paints, she paints in layers that are translucent, building a rich, saturated image. Karen also can transform an old, previously painted wooden desk into an amazingly attractive piece of furniture by applying a faux wood finish that completely fooled me from a few feet away.
A Solo Act
Her birthplace was Ottawa, but she was conceived in Newfoundland and raised there and in Nova Scotia until she was nine years old. Her interest in art was whetted by her mother's gift of lessons by a neighbouring artist, and a teacher "just gushing" over a watercolour still life. She loved every minute of her years at the High School of Commerce Vocational Art program, and went on to do graphics and forms work at CIDA and map tracing at Fisheries and Oceans. She laughs as she recalls the manual she illustrated to instruct fishermen on how to build boats.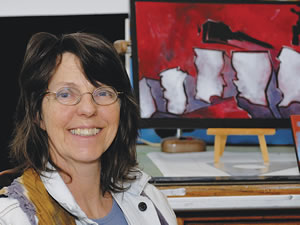 Phillips Curran has spent her adult life in Lanark and Renfrew Counties, and she now is the proud owner/creator of Riverstones Studio, 6.6 km southwest of Burnstown, just off Calabogie Road/Route 508, at 11 Brydges Road in Springtown. She also recently celebrated twenty-five years of working as an artist in Bermuda, the result of her entrepreneurial ingenuity. She is justifiably proud of the fact that she has always made her living with her art, even when it meant going without running water in her kitchen in the winter. As she puts it, you have to be an optimist to be a single artist living by yourself.
When I ask her the inevitable "Why are you an artist?", Karen answers, "I've spent a lifetime chasing light, by way of the shadows." In her website biography I am struck by these declarations: "Light is discovered through darkness. Decay is made beautiful by way of being noticed."
It is clear that art is her anchor, her lifeboat and her salvation. She has nurtured her gift and worked devotedly to hone her skills. Her inspiration is another gift — she never knows where it will come from or where it will lead her. In return, her canvases are a gift to anyone who stops to contemplate them.
Several of Karen's works are on display at the General — fine craft, art & design, the exciting new shop at 63 Mill St. in Almonte. Works are also on exhibit at Gallery Perth at 17 Wilson Street East in Codes Mill. She also takes part in the Perth Autumn Studio Tour.
She welcomes viewers at her Riverstones Studio; simply give her a call or get in touch by email. If you spend a few minutes on her website, you will understand why you should see the original works. It would be even better to own one.
Get in touch
For full contact details, visit theHumm's Local Directory.
Humm profile by Sally Hansen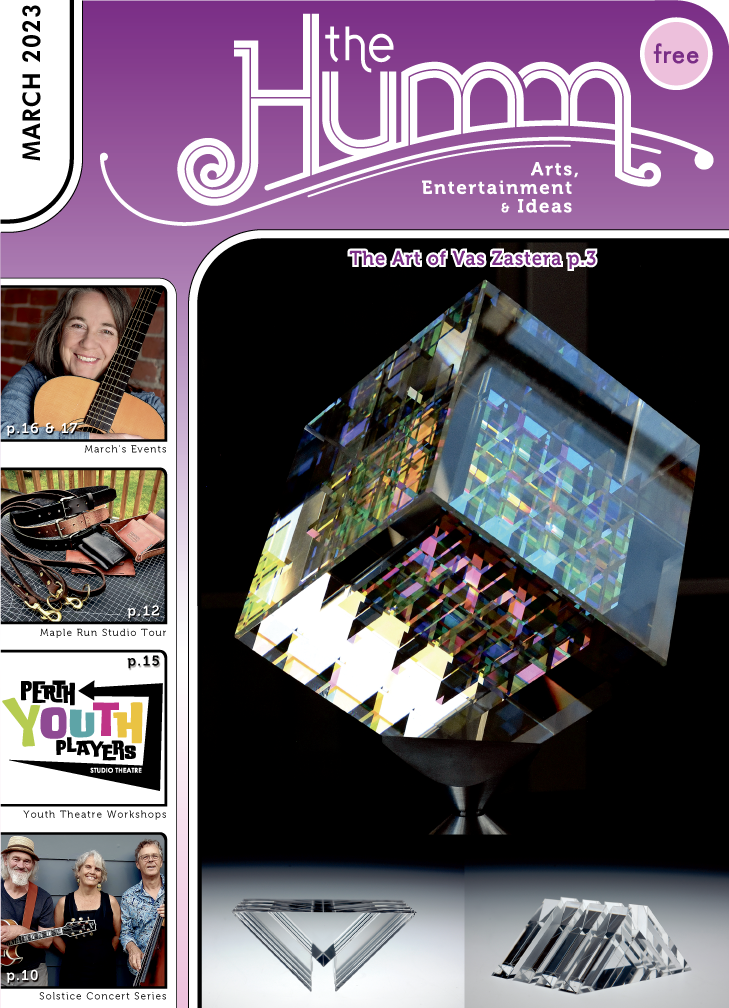 (pdf)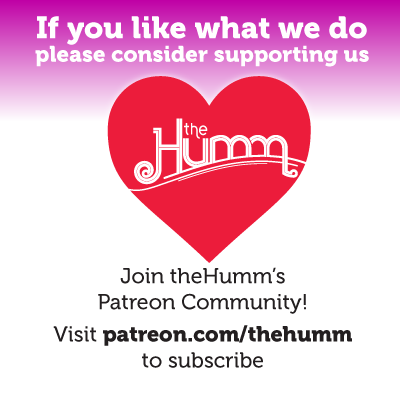 March 2023