Strachan Ley Johnston - Painter
Date Published: Thu, 01 May 2014
Strachan Leys Johnston: "Just No Nonsense"
That is the enigmatic message that greets visitors on his website, so it was with some curiosity, if not trepidation, that I walked up the sidewalk to Strachan Leys Johnston's home studio out in the Carleton Place countryside.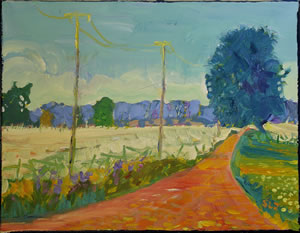 Au contraire! He met me with a big smile and a warm handshake, and ushered me inside to a veritable feast of lively, bold, sometimes surprising and even humourous canvases. His subject matter is eclectic, ranging from landscapes to farm animals to "selfies" to totally whimsical creations bordering on pop art.
Strachan's landscapes readily confirm him as a member of the former "Group of Eight" painters from the region, whose works appeared three years in a row at Ottawa's Cube Gallery. Their name consciously confounded aspects of the early 20th century NYC Ashcan arts movement connection to "The Eight" with Canada's connection to our beloved "Group of Seven". Several of Strachan's paintings of scenes of Lanark County evoke comparisons with the boldly, almost roughly painted works of the Canadian Group.
Like the Group of Seven, Strachan (pronounced Strawn) loves to paint en plein air. He remarks wryly: "The model is free." He also mentions that he thoroughly enjoyed and was heavily influenced by his outdoor landscape painting classes with Robert Hyndman of the Ottawa School of Art. I've yet to meet a student of Hyndman who felt differently.
Johnston's unfettered use of colour enlivens familiar material; a rabbit, a cow, an urban building — each takes on a new life under his hue-laden brushes. A browse through the images at the "Animalistic Tendencies" link on his website reveals the fresh approach he brings to his subjects. He attributes his strong sense of humour and love of novelty to his genes and his upbringing. He characterizes his father and his uncle as "very funny", and his son has performed as a stand-up comic. As a kid growing up in Toronto in the '50s, Strachan helped out in his mother's portrait studio, modeling and washing brushes.
As a Member of the Board of Arts Carleton Place, Johnston is active in developing arts programs for grade schools and promoting the arts in the area. The group has provided scholarships for four students to pursue art studies. He also paints sets for the local Mississippi Mudds theatrical company.
He finds it especially gratifying that the Mayor of Carleton Place, Wendy LeBlanc, is an enthusiastic collector of his works. She told me that she owns at least eight of his works and added, "I love his bold colours and his ability to draw me into his paintings with a few strong brushstrokes.
It occurs to me that that might be what he means when he states "Just art — no nonsense." When I ran that by him, however, he clarified, "'Just Art — No Nonsense' means I have not made an effort to locate my art in a philosophical tradition or aesthetic era such as post-post-industrialism, because I believe art is ineffable and speaks for itself — no words needed." Most art lovers would agree; we frequently see things in works that even the artist did not, and our emotional responses are coloured as much by our experiences as by the artists' choices.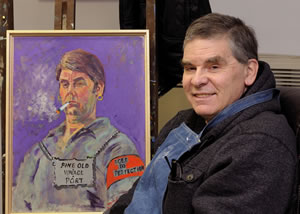 Balancing Act
The proverbial right side of his brain has always sought equal consideration. Strachan fondly remembers the pleasure of winning a coveted art award in Grade 7 or 8. While studying History and Economics at York University, he stretched time to fit in music classes. Later, in Paris, pursuing doctoral courses at the University of Toronto, an interview for a position with Canada's Department of Foreign Affairs launched him on a thirty-year career in the Civil Service. The job took him to Senegal, the U.N. General Assembly in NYC, and eventually back to Ottawa with Canada's Emergency Preparedness Critical Infrastructure Program.
Johnston describes his art as "emotionally fulfilling… You can lose your balance in life with an over-developed left side of your brain." In 1990, he upped his pursuit of artistic fulfillment and began attending evening and weekend classes in oil, acrylic and watercolour painting at the Ottawa School of Art (OSA). He continued with landscape, figure drawing and portraiture classes, and he credits a pottery class with developing a greater appreciation for the third dimension in his art. He started exhibiting his works at OSA and then at various Ottawa bistros.
He and his wife both love the country and they lived in an old farmhouse in Ashton from 1980–1988. In 2000, the couple discovered a wonderful house outside of Carleton Place in a quiet, peaceful, dead-end location. It turned out that the house was built by their "marvelous next-door neighbour, Bill Truscott — a wonderful architect and builder." Strachan loves living in this rural, agricultural environment, surrounded by farms and able to see cows and sheep from the corner of his property. Like the landscape, they pose for free.
When he retired in 2008, Johnston built his spacious studio next to his house and embraced art as his second career. He is candid about enjoying the artistic freedom that he earned through many hard years of work; not hampered by the necessity to earn a living from his art, he can afford to experiment and "play" without considering the economic implications. If the Mayor's comments are any indication, that freedom results in striking works that appeal to people who value originality and verve.
Retirement is not always easy for individuals who have had long, successful careers. Strachan Johnston particularly values the social network and new friends he has developed within the Carleton Place artistic community and his involvement with Arts Carleton Place. His face lights up when he tells me, "Art brings balance to my life, and opens new horizons."
Get in touch
For full contact details, visit theHumm's Local Directory.
Humm profile by Sally Hansen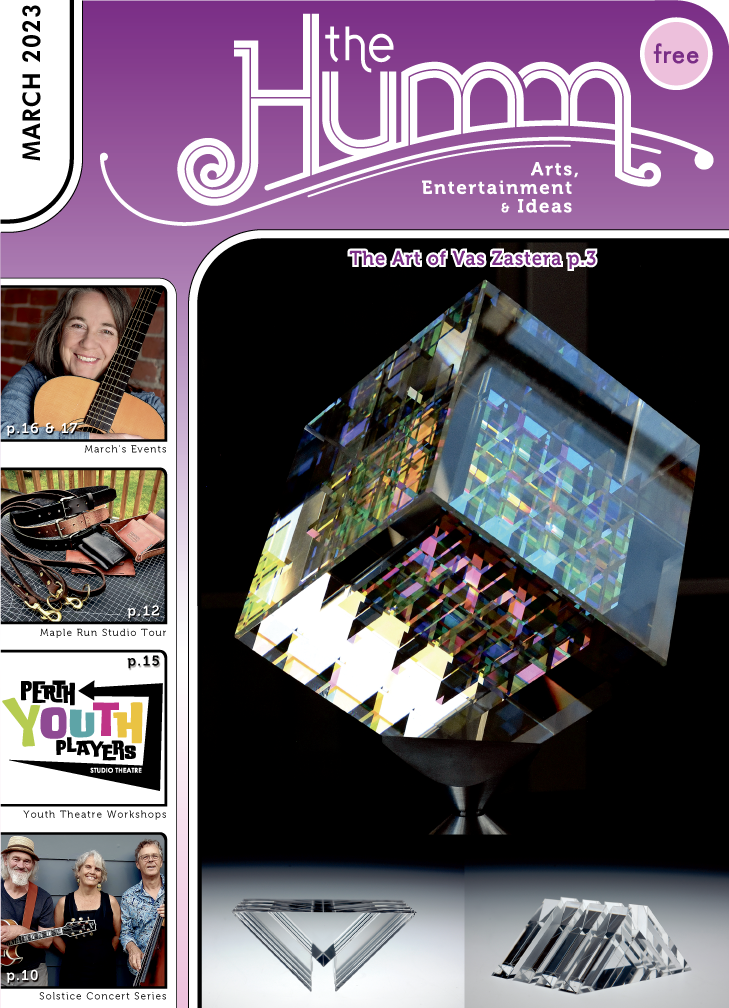 (pdf)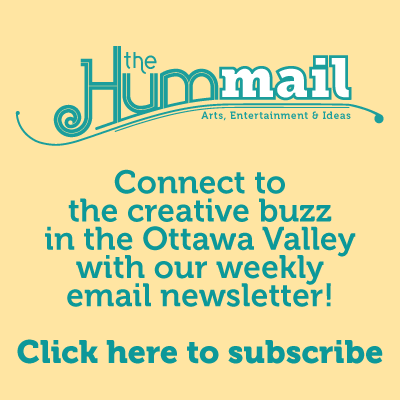 March 2023