Victoria Jenkins, Clay Sculptor & Potter
Date Published: Sat, 01 Nov 2014
Love at First Throw
Clay sculptor and potter Victoria Jenkins remembers having her first experience with pottery when she was six years old. She lived on a prairie farm near Edmonton and mixed some mud with water and made a bowl. It was the beginning of an enduring love affair with the endless creative possibilities and challenges that clay provides.
A visit to Jenkins' Magical Mud Pottery Studio in Carleton Place reveals the extent of her appetite for experimentation and invention. She explains her continuing fascination with working with clay as "…a voyage of discovery… What will make a functional pot work well for its purpose? What will make my product interesting over time for the person who owns it? Is it possible to inject a little surprise or whimsy?"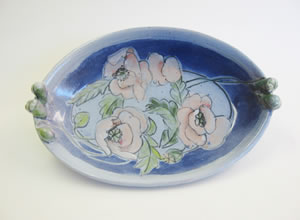 The result of her continuing exploration of all aspects of her chosen medium is a wealth of creative functional pottery for the kitchen and the garden. In addition, she creates custom sinks and bathroom accessories. All are beautiful, original and expertly made — a result of her intellectual curiosity as well as her gift for creativity.
But the show stopper is her collection of clay sculptures — from elephants to fiddlers and dancing couples, three feet tall. They are amazing. Throughout the design and build processes, they become more like friends than artifacts, and Jenkins' biggest regret is that she has to say goodbye when they find a new home.
Many of her current sculptures are, in fact, modeled after friends. Victoria and her husband Alex love to dance. Some of her favourite figures are of older people they meet at the country dances they attend on weekends. She works from photographs she has taken, capturing her subjects' movements, personalities and individual qualities as they enjoy life to the fullest.
Jenkins describes constructing a large sculpture as an adventure. "There is a plan, of course; but ideas, movement and changes suggest themselves along the way, and the end result is often much different. The magical part is when the hands and face are added and the figure seems to come to life." After controlled drying and slow firing in the kiln, she adds colour with acrylic paints.
Magical Mud
Maybe she does use magical mud. From a large block of soft clay and a few photos, Jenkins captures the transcendental magic of music-making and dancing. Somehow she is able to transpose her own feel for gesture and movement to large clay figures who are obviously transported in the moment.
Over decades of courses and experimentation, Jenkins has solved puzzles about design, the building process, decoration and achieving the colours she envisions. As anyone who has opened the door of a kiln knows all too well, a minor error along the way can affect and even destroy the final result. Victoria enjoys the challenge, and includes many tests in every kiln load. As she puts it, "Some work. Many don't. But it's all part of the learning process."
Lifelong Learning
Education has been a constant in Victoria Jenkins' life. She came to Ottawa from the Prairies when she received a scholarship to study Political Science at Carleton University. She returned to Edmonton with her new husband, where he worked for the Federal Government while she went back to the University of Regina to acquire a Bachelor of Fine Arts degree while raising their two sons.
Fortunately, the right student met up with the right instructor. Jenkins credits her marvelous pottery instructor — Regina's Jack Sures — with fostering her lifelong fascination with clay. Sures is one of the maverick Canadian ceramists, along with Joe Fafard and others, "who in the 1960s liberated ceramics from its traditional, functional role and instead utilized it as a sculptural material. The 'Regina Clay' group, as they came to be known, rallied against anything that could be considered dogmatism within the constricts of visual arts and ceramics." Sures created the "Air, Earth, Water and Fire" ceramic mural at the Canadian Museum of Civilization in 1989.
Following Victoria's graduation in 1981, the couple moved back to Ottawa and she set up her own studio in Orleans while she was still working full time. After years of searching for the right piece of land on which to build a house, they settled in Carleton Place in 1997, where she now has her spacious Magical Mud Pottery studio. For almost thirty years she participated in the shows of the Ottawa Guild of Potters, perfecting and expanding her functional housewares (she likes to cook).
Variety is the Spice of Life
Gradually Jenkins began decorating her larger items with paintings and small sculptures of animals — tigers, elephants, giraffes and fish (she loves to travel and to swim). Eventually she added people to her work, with a series of Ukrainian dancers reflecting her family background, and a group of circus-related pieces in the '90s. She wanted to create even larger pieces and attended classes at St. Lawrence College. Next it was her instructor at Haliburton College, highly imaginative sculptor Dzintars Mežulis, who "got me over my fear of sculpting faces, teeth and hands."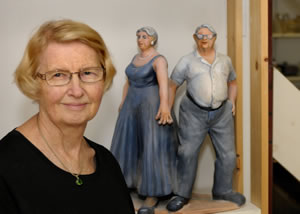 Following a year-long FUSION mentorship program with potter Leta Cormier, Jenkins has concentrated on surface decoration using glaze stains and painting. "The key ingredient," she quips, "is lots of practice." She enjoys making custom sinks because they require good technique and good control, and she is looking forward to creating large garden sculptures, fountains and planters (yes, she likes to garden too).
Jenkins finds Carleton Place a stimulating place to work, with an active, talented and busy arts community. Four years ago she initiated the annual Carleton Place Art Tour & Sale to provide local artists with another way of distributing their work. This year it has been expanded into a two-day affair by popular demand, so you can meet Victoria Jenkins and some of her sculpted friends at her Magical Mud Pottery Studio at 2321 10th Line, just south of Carleton Place, on November 8 and 9. Check out her offerings of hand building classes on her Facebook page and get her full contact info at the top of this page.
Humm profile by Sally Hansen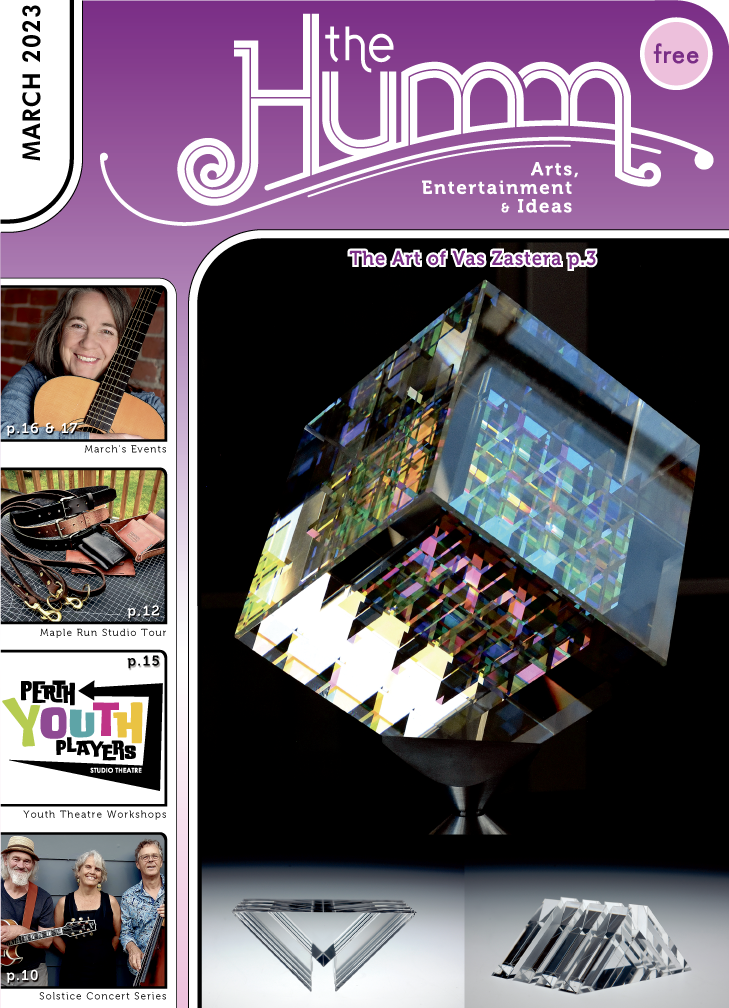 (pdf)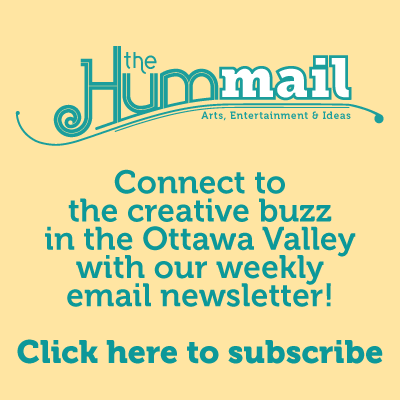 March 2023