Mary Lynn Baker - Artist and Craftswoman
Date Published: Fri, 01 Aug 2014
Celebrating Life
Her dancers are curvy and vivacious and living in the moment. Their outfits match their exuberant mood. Mary Lynn Baker's oil paintings and papier mache; sculptures feature real people kicking back and having a good time. When the beat goes on, the feet get going.
Her favourite subject is ordinary people, mostly women, who are transported out of their everyday personae. As she puts it, "Nothing shows that as well as when they are so moved by music that they have to get up and dance. Music takes people out of themselves, transports them to another level."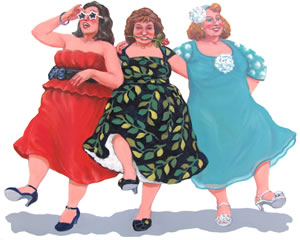 Occasionally a visitor to her booth at art festivals questions her esthetic — is she poking fun at those of us who don't worry about being mistaken for super models? No — Baker celebrates life lived fully and honestly, by people more interested in enjoying life than in being judged by others. "Rounder people are more interesting to draw," she explains. "I love the curves, the lines."
Everyone loves Baker's flair for fashion. She is asked repeatedly if she has studied or been a fashion designer (no, not yet). The hats and the dresses and the shoes her women wear are wonderful, painted in oils in rich, jewel-like colours against a plain white background. The stark contrast is the perfect backdrop for the joie de vivre her subjects exude. They make you smile and want to have a few drinks and do the conga.
Baker is well known for her papier mâché sculptures of "Flying Ladies." When her children were little, she was searching for an inexpensive artistic outlet that she could pursue at home. She started by creating a menagerie of diminutive clay animals and people that turned out to be hugely popular at craft shows. Next she developed her own version of papier mâché to create sculptures that she baked in sections in her kitchen oven. Over time she cooked up a few characters that were almost two feet high.
Taking Flight
It occurred to her that many art collectors run out of shelf space to display their prizes, and she came up with the idea of suspending her lightweight sculptures from wires. Almost as a lark she submitted an application to the prestigious, juried One of a Kind Show in Toronto. Much to her delight she was accepted, and the Flying Ladies (and a few men) were a huge success, earning her spots on TVO's Hands Over Time (featuring Ontario's top craftspeople). The sculptures appeared in national television ads and in magazines such as City and Country Home, and are owned by fanciers around the world.
The Flying Ladies are just one example of the flights of fancy her creativity has led her to explore. When her kids were teenagers, she entered a competition for a mural commission for the town of Athens, and subsequently realized that she loved to "paint big", as she created three of the township's locally famous murals <athensontario.com/tourism>. She went on to paint sixteen more, including four in Shelburne, northwest of Toronto.
Getting Airborne
Born in Ottawa, Baker remembers loving to draw when she was three years old. To address her parents' concerns about making a living, she graduated from Algonquin College with a diploma in commercial art, and then trained as a cartographic draftswoman with Agriculture Canada, meticulously inscribing lines into acetate
from surveyor's maps. After a few years she applied to the Ontario College of Art where she concentrated on figurative art, even though the art in fashion at the time was known as "Hard-Edge Abstraction".
Mary Lynn wasn't particularly interested in abstract, so she adapted the new technique of super sharp edges and geometric blocks of uninterrupted colour to her own version of street art, painting pictures of street people, bag ladies, patterns of feet and the streetcar interiors in the area of Toronto near the College. After graduation she went to Europe with her new husband, and the couple settled in Kingston on their return. She started to work for the provincial government as a draftswoman, but decided to gamble. She resigned and began her journey as a full-time freelance artist. She drew portraits at malls, became a book illustrator, designed and painted parade floats, and took commercial assignments such as creating scientific charts and graphs. Dragon on Parade, the children's book she designed and illustrated, went into second and third printings, and is still available online.
When the couple moved to Brockville she taught art at St. Lawrence College and continued her lifelong artistic journey. She found oil painting too time consuming and began creating very detailed pieces in pen and ink. Her rigourous training in cartography is deliciously evident in her renditions of Cow and other works in the "Pen and Ink" section of her online gallery. Mary Lynn became well known for drawings and watercolours of people who fitted the description of eccentric, or "marching to a different drummer," placing them in situations that revealed the human being beneath all the attitude and dirt and pain. When her daughter began taking dance lessons, Baker, like Degas, became fascinated with the line of the human body engaged in formal dance moves. Unlike Degas, she developed a fascination with portraying the camaraderie and conviviality that emerges from engagingin group activities like line dancing and Conga dancing.
Space constraints prevent me from writing about all of Baker's artistic adventures. She learned what a challenging industry the toy business is during eight years of creating children's toys. After selling them all, she retired from the business. If you're lucky, she may have some of her hilarious "Boomer" cards and self-published books with her when you visit her at one of her upcoming shows, like the Sundance Artisan Festival taking place at the Fall River Restaurant in Maberly on the Labour Day weekend <sundancestudio.ca>.
Twelve years ago Mary Lynn Baker learned that she was facing a new challenge when she was diagnosed with non-Hodgkin's lymphoma. By chance theHumm contacted her to become our featured artist this month only days after she returned home from a grueling but promising stem cell transplantation procedure. Consequently I interviewed her by phone rather than in person. I consider it my misfortune that I only got to appreciate the twinkle in her voice and missed seeing it in her eyes. Her indomitable spirit and her sense of humour remain undaunted. You can enjoy her fresh, wry, humourous outlook by stopping in to see her and her whimsical art right here on theHumm Online.
Get in touch
For full contact details, a photo gallery of Baker's work and more, follow the links at the top of this page.
Humm profile by Sally Hansen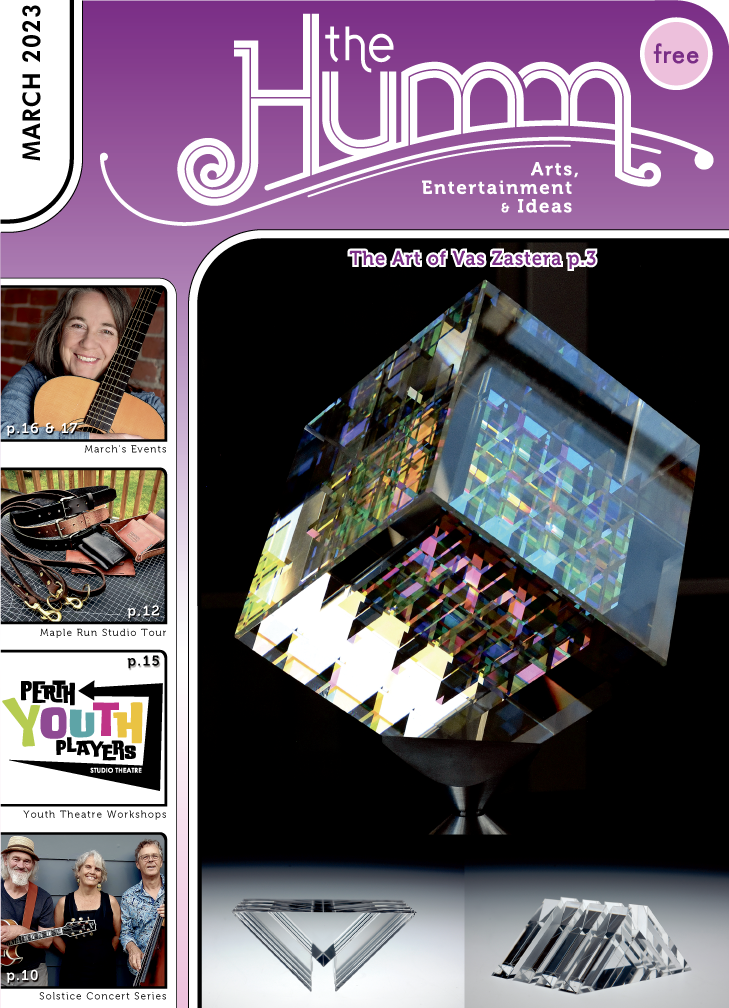 (pdf)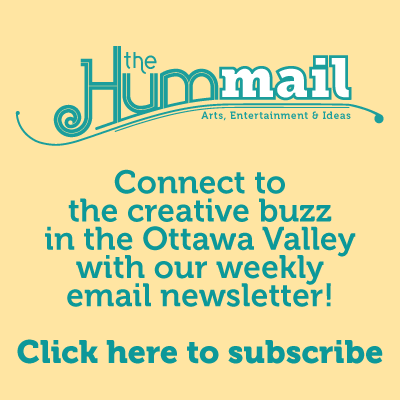 March 2023