Mary Pfaff - Visual Artist, Teacher & Arts for Wellness Coach
Date Published: Sun, 01 Feb 2015
The Art of Healing Through Art
Contemplating the beautiful and intricate abstract works created by Carleton Place artist Mary Pfaff, the analogy that kept recurring to me is that her paintings are like good music; they have the power to evoke a wide range of emotional response. In different works her abstract language soothed me, saddened me, gladdened me, intrigued me and left me grateful for the absorbing experience.
Pfaff loves creating abstract art because it is an endless "exploration of how images, symbols, relationships and experiences are intricately fused and dispersed." The process she follows is full of mystery, and constantly challenges her imagination. She describes the experience as "a wordless conversation… a full sensual experience; the sound of the brushes against the canvas, the smell, the touch, seeing, moving, changing and becoming. When the final piece connects for me and the viewer, a new conversation begins."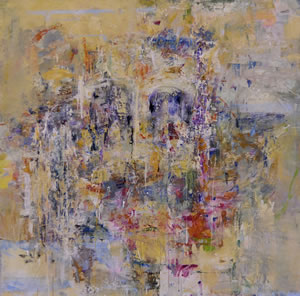 After her mother's death last summer, Pfaff created seven wonderful works entitled August Suite, based on imagined and remembered conversations. As I studied them I found myself intensely curious about the different conversations that inspired them and elicited such different responses from me. The longer I wandered around her marvelous studio and gallery space at MacArthur Mill in Carleton Place, the more I realized just how successful she is in engaging her viewers in an emotional conversation.
From February 4 to 28, 2015 Pfaff's works will take centre stage at General Fine Craft, Art & Design at 63 Mill Street in Almonte. On Sunday, February 8, from 1–3pm, she will present a talk on "intuitive, expressive drawing," featuring her August Suite drawings. Her credentials as an international presenter and leading advocate for engagement in the arts would have been sufficient to recommend attendance; my interview with her leaves me with no hesitation to do so. Her infectious enthusiasm for the power of the creative process to promote well-being in individuals and communities is a perfect tonic for the February blahs. Her paintings could seduce you into rethinking abstract art.
Pfaff has a wonderful retort to my standard question 'Why do you create art?' She answers, "To paint is my lifelong aspiration and favourite verb." Her history fully supports her response.
She was born in Clinton, Ontario, where her father served in the Royal Air Force. When she was eleven years old, she was sent on an exchange from Winnipeg to a Secondary Modern School in Buckinghamshire County in England. Pfaff thrived in an environment where eccentricity was revered, not avoided, and art was considered an essential part of the curriculum. After attending George Brown College she accepted a placement as a child care worker at Warrendale, a Toronto facility for emotionally disturbed children.
The Healing Power of Art
It was there that she discovered that "art changed everything," even with deeply troubled children. It was a life-changing experience for Mary, and one that profoundly shaped her own life and informed many of her later career decisions.
While raising two children with her first husband in Ottawa, she attended commercial art classes at Algonquin College and worked as a designer creating publications for Transport Canada. As she approached a milestone birthday, she realized she would "be nearly 40 whether she did it or not," and graduated with distinction in Fine Arts from the University of Ottawa at the age of 39.
Since then, her work has been shown in solo and group exhibitions across North America, the U.K. and New Zealand. Her exuberant painting titled "Applause" is on display in its special setting at the top of the staircase at the Centrepointe Theatre in Ottawa, the result of a competitive public art commission process.
For the past twenty years, Pfaff has frequently put her own work on the back burner as she worked tirelessly to promote the arts as a transforming healing agent. During fifteen years of offering painting, sculpture, ceramics and art and gardening programs to residents at the Perley and Rideau Veterans' Health Centre, she again witnessed the profound effect the arts can have on quality of life and well-being. Art had always been essential in her life, but after her son was killed in a tragic car accident in 1996, Mary immersed herself in the design and development of creative arts programs and projects for all ages, using the arts as a healing agent for self-expression, empowerment, insight, recovery, rehabilitation and respite. In 2003, after attending a conference in San Diego, she created Artswell as a sole proprietorship.
She worked tirelessly to secure Trillium grants, and forged partnerships with various agencies to create a Canadian charity dedicated to improving the quality of life and well-being of individuals living with the effects of age, illness or injury, through exposure to and engagement in the arts <artswell.ca>.
Pfaff has worked as an arts-for-wellness coach for cancer survivors, and as the faculty Artist in Residence working within the medical school and the clinical settings of the Ottawa Hospital. As one of the leading Canadian experts in the field, she has used her expertise to establish workshops that make the arts accessible to everyone. Mary is the 2013 recipient of the Lucille Broadbent Award that is presented annually by the Ottawa Art Expo to an individual whohas demonstrated artistic leadership and commitment to the furthering of the arts community in Canada.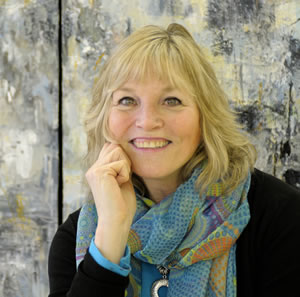 With her second husband, journalist Richard Starnes, Pfaff shares twelve grandchildren spread across Ireland, Australia, New Zealand and California. When she returns home from visiting family and painting in New Zealand, she looks forward to the new phase of her career - focusing on creating her own art. As usual, she will work tirelessly — a disciplined six to seven hours a day on her painting, and to promote her new project. She is thrilled with her spacious new studio and gallery in Carleton Place at the historic MacArthur Mill on the island at 150 Mill Street, andenvisions its development into an exciting, creative space for creative people. Mary's only preference for neighbours in this affordable and flexible venue is their desire to be involved with and participate with other people. She adds that a brewery and café would be especially welcome.
Fear of the "F" Word
If the Fear of Failure has kept you from exploring your artistic soul, Mary Pfaff would be an ideal resource. Her workshops encourage you to celebrate the uniqueness of yourself, to take risks, to tap into your creative force.
Better yet, she believes that art, like life, doesn't have to be serious.
Humm profile by Sally Hansen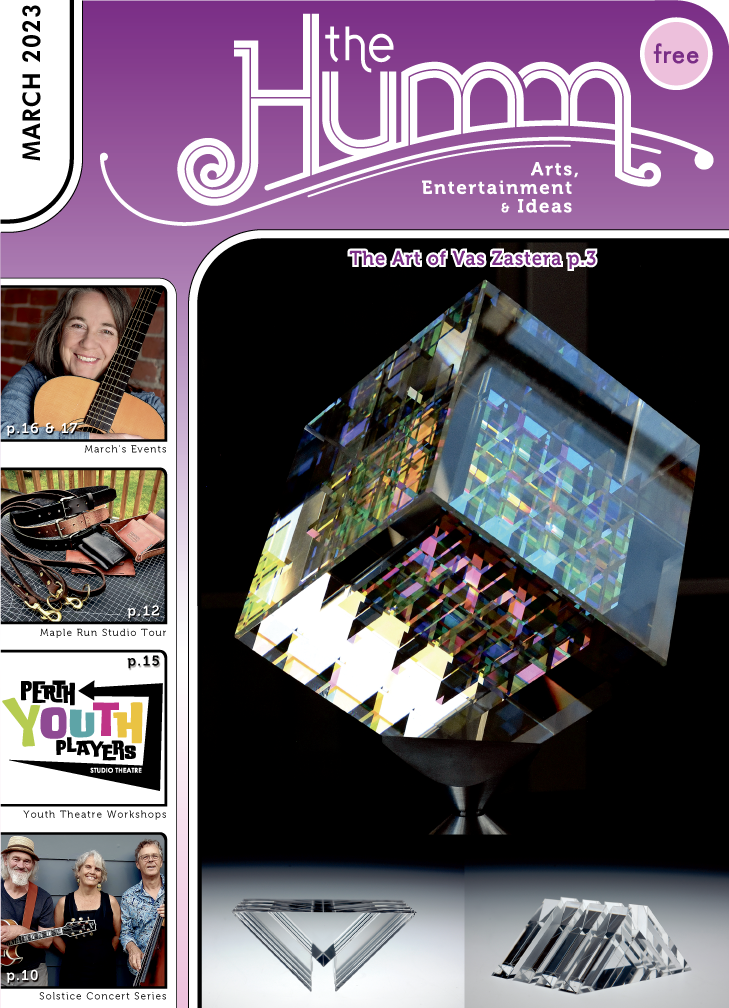 (pdf)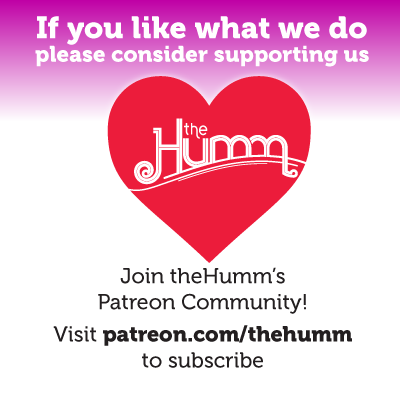 March 2023