Faboalous Mosaics
Date Published: Tue, 01 Apr 2014
Andréa Fabricius and Jamie Boal - Together They're Faboalous
What's not to like about salvaging an old window and turning it into a brilliant, glowing work of art? Andréa Fabricius and Jamie Boal are a husband and wife team who transform discarded window frames into amazing and amusing glass mosaics, perfect for brightening up your windows and hanging in your garden.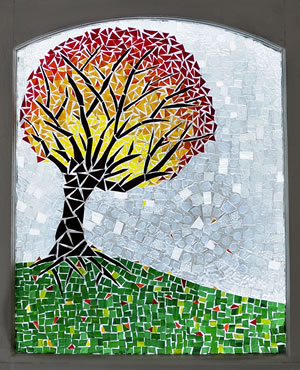 Their imaginations are their muses. Subject matter ranges from cute to beautiful to pop art to comical to whimsy. There is a mosaic for your kitchen window, your teenage son's window, your bedroom window and any other naked window you may choose to dress.
Together They're Faboalous
A visit to their refurbished backyard studio at 281 Water Street in Almonte is enlightening in several ways. Most notably, it showcases the way in which glass window mosaics can light up your life. Whether you want to block a view (i.e., a bathroom window) or enhance a view (i.e. an alley or unattractive wall) or decorate a room (a kid's window), Jamie and Andréa have imagined and created the solution. One of my favourites was Jamie's take on a brightly-hued robot. I wish I had seen it when my son was a kid. Looking at a snow-covered garden through a beautiful floral mosaic almost mitigated the malaise induced by an interminable winter. A hen with three chicks brought a smile to my face, as did the stylized owl perched on a branch.
The second illumination was the realization that Andréa and Jamie are a seamless artistic partnership. Sometimes even they had trouble remembering which of them had created which mosaic. I thought it took more years than they have had together to reach the point where one could finish the other's sentence, let alone work together in a small space to produce an exuberance of happy art.
Their backgrounds are very different, but the end result of their finding each other brings to my mind a favourite poem by e.e. cummings — "if everything happens that can't be done." The Fabricius/Boal relationship that has engendered the Faboalous Mosaics partnership is "wonderful one times one." It is wonderful to watch them interact, and it is wonderful to contemplate the artistic results.
Becoming Faboalous
After a childhood in the Arnprior area and high school in Renfrew, Andréa Fabricius earned her degree in Fine Arts at the University of Toronto and studied the ancient art of mosaics while obtaining a diploma in visual arts from Sheridan College. In 2003, when she was photographing a wedding in Arnprior, her parents mentioned that Almonte was "getting artsy." Amazingly, Andréa had never been to Almonte.
On her very first visit, she was "snooping around Thoburn Mill" and ended up signing a lease on the spot to open "Fabulous — the Shoppe of Gorgeous Things." In 2005, she met Jamie Boal when he stopped at her Fabulous booth during Herbfest. Three years later she moved her shop to Mill Street in Almonte, and married Jamie.
Their wedding was a major artistic event. The industrious couple hosted three hundred people in medieval period costume, seated on hay bales arranged in the field by Jamie and friends. The photographs are amazing. Jamie's mother, Diana Boal, (named "Outstanding Employee" of 2013 by the Mississippi Mills Chamber of Commerce for her work at the White Lilly in Almonte) created marvelous feather bouquets, and the bridal bouquet occupies a place of honour on the couple's living room wall.
In 2008, Andréa left her Almonte shop to take a full-time job as a creative arts instructor at the Perley and Rideau Veterans' Health Centre. Her mother has been a health care advocate for seniors for over 25 years, and Andréa thrives on the knowledge that her contribution makes a huge difference in the lives of her participants. Creating art is one of the few opportunities that these seniors have to act independently and make choices. The kudos and gratitude Andréa receives from them and their families make the long commute worthwhile. One senior left his room for the first time in over six months to participate. As Andréa puts it, "Art is magical. It can cure depression!"
Jamie grew up on a dairy farm in Cedar Hill near Pakenham. He credits his mom with his artistic flair. After a stint as a ski bum out west for a few years, he followed in his grandfather's footsteps and studied carpentry. He always liked working with his hands, and carpentry is an art that produces a practical product. He has done landscaping and worked as a tractor salesman before becoming a safety inspector and trainer for S. P. Safety Solutions in the construction industry. He tells me "Farming will always be in my blood. I have great respect for the land and a love for the animals." Their magnificent 100-pound Bouvier des Flandres is more evidence of the Faboalous couple's mutual interests.
Another artistic passion the couple share is photography. Formerly a serious film photographer, Andréa is completing a course in wedding and event planning because "It brings all the things I love together." Each has done wedding photography in the past, and they look forward to doing it together in the future.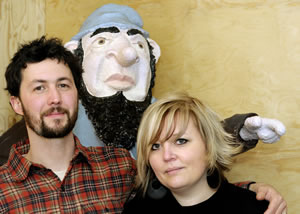 Lighten Up!
In case you can't make it to the Almonte Agricultural Hall on May 3 to see Faboalous Mosaics during the spring Handmade Harvest event, drop in at Hello Yellow at 72 Main Street in Almonte. And don't let that huge dwarf posing with them in their Artist Trading Card photo keep you away from their home studio. Like their Bouvier, Grumpy is extremely well-behaved. The two couldn't resist rescuing him from the auction that was held when Storyland (near Renfrew) closed. Andréa Fabricius and Jamie Boal offer accessible and affordable glass window mosaics that will lift your spirits and brighten up your life.
Get in touch
For full contact details, visit Faboalous Mosaic's info page ontheHumm's Local Directory.
Humm profile by Sally Hansen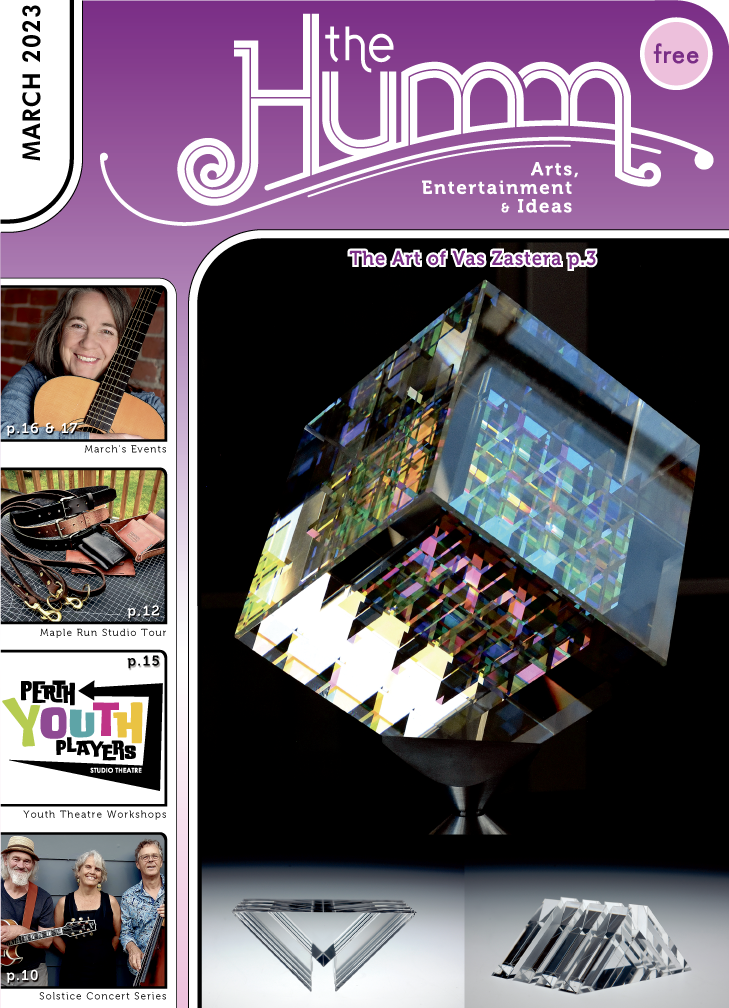 (pdf)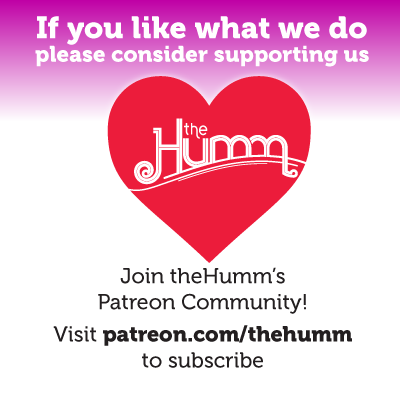 March 2023