Cheryl Poulin - Painter
Date Published: Tue, 01 Oct 2013
Cheryl Poulin - A Sparkling Bubble of Creativity
Cheryl Poulin's infectious enthusiasm for art exacerbates my writer's tendency to overdo it on the adjectives. The woman bubbles with happiness as we sit in her home studio in a relaxing rural setting in Dunrobin. It turns out that "bubbles" is an apt choice of words; she tells me that she loves circles.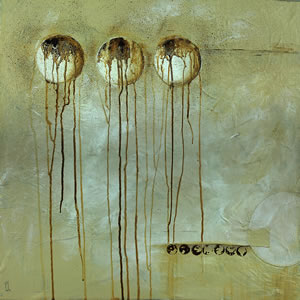 The profusion of art visible in her studio and home reflects her current passion for bold mixed media abstracts, and I do indeed spot circles in many of them. Her canvases glow with a strong life force and exhibit a playful spontaneity. She embraces colour and texture and exhibits a fearless spirit of artistic adventure. As she describes it, "I show up every day and dance in the moment."
Poulin's art spans the gamut from craft to art, and she doesn't concern herself with the issue of where one ends and the other begins. If it expresses creativity from the heart, it is art. In addition to her abstract acrylic and mixed media paintings, she develops decorative and tole painting projects for well-known publications like PaintWorks, published by All American Crafts Inc. of New Jersey. Their 2012 Holiday Issue contains her detailed instructions for making a trio of angel ornaments she designed, and the August 2013 edition contains instructions for her functional Dragonfly Coaster Set painted in acrylics. She shows me the large, striking mixed media work that inspired her design. As a result of all the strong positive feedback it garnered, she decided to transfer elements of her art piece into a functional setting.
By the time the interview is complete, I realize that Poulin's variety of painting styles is consistent with her fortuitous discovery that creativity is her vehicle of choice in her journey to discover her true nature. It has been and remains a joyous and endlessly rewarding journey.
A Crafty Artist
Always a doodler, Cheryl remembers being fascinated with arts and crafts from her earliest days, playing with scraps of coloured paper in her crib. As a teenager she instinctively relied on creativity to deal with a complicated family situation, and she confesses to cutting classes during her first year of high school. She and a friend hung out in art galleries — a wiser choice than many of her other options, and one that opened her eyes to future possibilities. The family moved from Montreal to Toronto during the FLQ crisis in 1973, and Poulin is flawlessly bilingual.
A series of boring jobs saw her promoted to manager in an insurance payment processing company, but she hated what she did. Fortunately her husband was flexible and in 1990 they decided to get off the Toronto treadmill and move to Dunrobin. The rural setting was exactly what she needed, and they both continue to thrive in their relaxed, verdant setting. It is the purrfect location for her studio — Earmark Purrductions Creative Studios — named for their cat with a notch in his ear.
Always attracted to the arts, Poulin's transition to becoming an artist began in earnest when she attended decorative and tole painting classes at the former Painted Pony Decorative Arts studio in Stittsville. It was a natural fit with a natural talent, and within five years she became an instructor herself. Today she produces a line of pattern packets and offers decorative painting lessons for all skill levels.
Cheryl credits visual artist Renée DesChamps of Stittsville with the OMIGOD revelation that propelled her headlong into her love affair with mixed media. In her words, "I thought 'This is so cool.' I struggled along and decided to try to have fun and trust my intuition." It was an epiphany that led to Cheryl's other deep involvement with art — sharing her methods for awaking the artistic creativity inherent in each of us. She describes it this way: "I love helping people do art because I know how good it feels; I want it for them."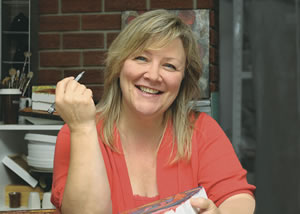 Fun is Poulin's principal weapon in her arsenal against roadblocks and negative thinking. By providing a stress-free, non-judgmental, experimental environment in her classes, she empowers participants to explore their artistic potential and discover new possibilities and directions. Her website advertising for her mixed media workshops is explicit: "These are workshops for trying various techniques and experimenting with different approaches to making abstract or non-representational art... You don't need any experience in art at all to come and explore a new way of expressing yourself that's uniquely yours." The testimonials certify that her cooking talents are on a par with her artistic and teaching skills — the excellent lunches are mentioned frequently.
The best way to explore Poulin's full range of artistic interests and activities is to spend some entertaining time on her highly informative website at earmark-studio.com. There are over fifty tabs to choose from, including galleries featuring her own and visitors' artwork, a decorative painting blog, and even explicit instructions for DIY home projects. When I clicked on the bottom link I discovered that Cheryl designs and builds websites in partnership with her husband Frank Farrell. This woman bubbles with energy, creativity, and enthusiasm.
Cheryl Poulin is a member of Ottawa Mixed Media Artists, the Society of Decorative Painters and the West Carleton Arts Society, where she also is serving as President. For any enquiries or to schedule a visit to Earmark Purrductions Creative Studios at 3152 Stonecrest Road in Dunrobin, you can contact Cheryl. If you don't have fun, you may be due for a tune-up!
Get in touch
For full contact details, visit theHumm's Local Directory.
Humm profile by Sally Hansen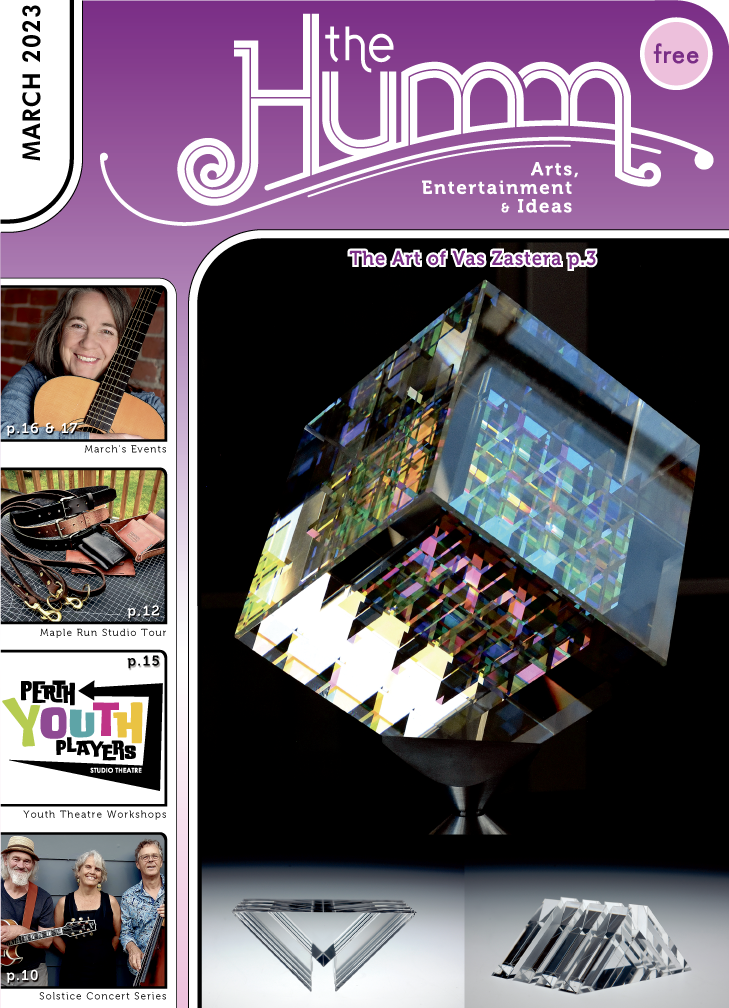 (pdf)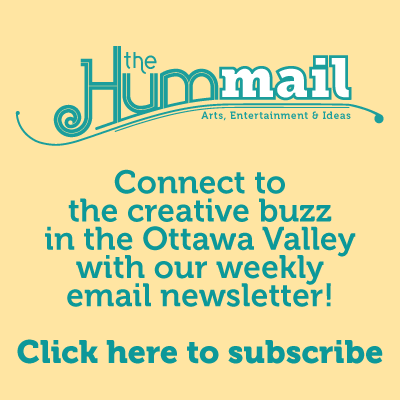 March 2023