Spartan Rubacha - Furniture Designer
Date Published: Thu, 01 Aug 2013
Spartan Rubacha - Flook D. Doo!
Flook D. Doo is the catchy name of Spartan Rubacha's Fine Furniture and Woodworking business. He creates an original line of furniture by blending the beautiful detail and craftsmanship of fine cabinetry with the charm, practicality and functionality associated with rustic pieces.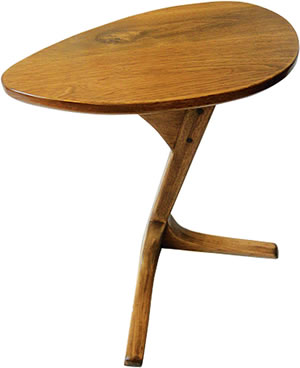 On his website, Spartan refers to his work as modern renaissance art; he "aspires to lead the woodworking world into a new era of rustic, yet refined furniture that not only looks striking, but sounds like solid work when items are placed atop the surface."
If that sounds ambitious, it is. His furniture delivers — his pieces are beautiful and functional. They reflect the creativity, whimsicality and quest for originality that marks Spartan's other endeavours as well (see below). When you Google "Flookddoo", all the results refer to Spartan's website at flookddoo.com. He eschews mainstream in all he does, and it's hard to be less mainstream than to concoct a unique social networking identity.
Spartan is quick to credit influential Swedish/American (but Siberian-born) woodworker James Krenov as his primary woodworking inspiration. Krenov's book, A Cabinetmaker's Notebook, is close at hand. According to Wikipedia, "(Krenov's) books extol the virtues of clean lines, hand-planed surfaces, unfinished or lightly finished wood, and techniques that Krenov referred to as 'honest'."
Krenov serves primarily as a philosophical inspiration. As a musician, Spartan related readily to Krenov's admonitions to seek compositional inspiration from the wood itself. Spartan's cabinets in particular attest to his success in paying attention to the variations in grain patterns and colours. A Flook D. Doo piece of furniture does more than complement your décor — it becomes a highlight.
Spartan's skills and creativity provide him the flexibility to create superb custom work also. He designs and builds extraordinary wall cabinets and other pieces to fit specific spaces and to house specific objects. Your collection of miniature antique oil lamps or African masks can become a unique focal point when Spartan composes the setting for their arrangement. Their only serious competition for eye time will be the piece of furniture itself.
Loop D. Loo
Self-help books and gurus claim that you will succeed if you pursue your passion. For many of us, the first trick is discovering the passion, and the second challenge is figuring out how to make a living at it. Spartan's mother and father played key roles in resolving both those dilemmas.
When he was two years old the family moved from Petawawa, where they owned a pet shop, to the small Lanark County town of Poland, about 45 minutes west of Carleton Place and Perth. There his dad opened a general store and B&B named the Red Eagle, in honour of his Polish heritage. Spartan started school in Lanark but enrolled in the French Immersion program offered in Perth when he reached Grade 5. He recalls ruefully that the experience was not ideal, especially since verb conjugation was meted out as punishment.
He continued his education in Perth, and remembers having no idea what he wanted to do after finishing high school. His only enduring interest was music, and he eventually landed in Toronto where he played with an alternative rock band named "The Hitch." His musical tastes evolved and Spartan began producing his own albums. Typically, he was attracted to a decidedly non-mainstream genre called Gothic Folk Music and continues to enjoy writing and performing his own darkly-tinged songs. He also writes blogs for societyvernacular.com about musical groups that fall outside the radar of the mainstream press. And he collaborates with Lanark musician Ali McCormick, accompanying her on the drums at local gigs and on YouTube.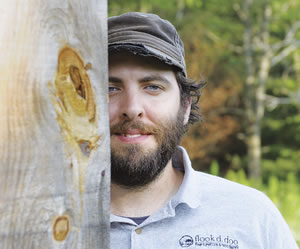 After trying Ottawa, Toronto and Kingston, he tired of city life and wandered back to Perth yet again. His dad asked for help with a tongue-in-groove paneling job. By the time Spartan made a birdhouse and a shelf out of the remnants, he was hooked on building things out of wood. A government grant enabled him to enroll at Algonquin College's Cabinetmaking and Furniture Technician course, and the passion question was answered.
Spartan planned and named his fine furniture and woodworking company three years ago while he was still a student. After a long and circuitous search for his calling, he didn't want to waste time once he found it. His face lights up when he tells me that after only two weeks in the course he realized, "This is what I've been waiting for my whole life." Fortunately, actuarial tables indicate most of his "whole life" is still to come. His mother provided support in setting up a workshop in Poland; friends and family provided an eager customer base; word-of-mouth and hard work are resolving the second challenge.
Whoop D. Do
There are a number of things you can do to see how Spartan Rubacha marries refinement with rustic to create furniture that is as visually striking as it is functional. Whet your appetite at flookddoo.com and imagine a gorgeous cabinet or chest as the focal centre of your room. Stop in at Riverguild Fine Crafts at 51 Gore Street in Perth to experience how Spartan transforms pieces of wood into eye-catching, sensual furniture. Look for him at the Sundance Artisan Festival in late summer and/or at the Perth Autumn Studio Tour during Thanksgiving Weekend.
If you see a piece that interests you, or if you wish to discuss a custom piece, you can contact Spartan directly.
Get in touch
For full contact details, visit theHumm's Local Directory.
Humm profile by Sally Hansen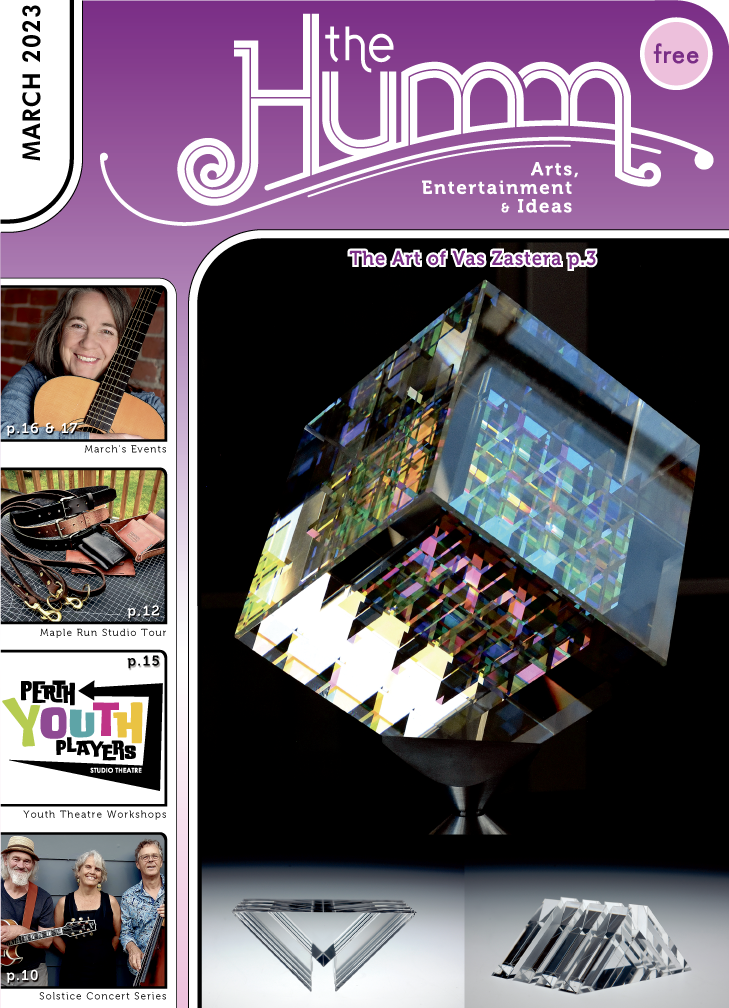 (pdf)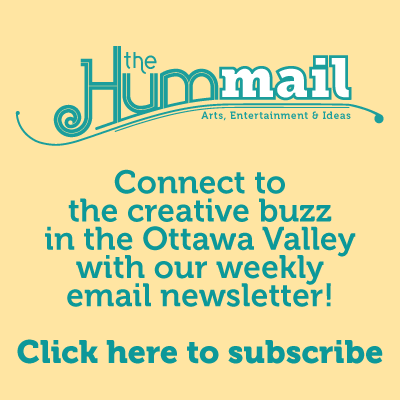 March 2023