John Robert Bradley - Visual Artist & Instructor
Date Published: Sun, 01 Mar 2015
John Robert Bradley: Landscapes and Dreamscapes
Unlike Shakespeare's Hamlet, Burnstown painter John Robert Bradley looks forward "To sleep, perchance to dream…" Bradley's dreams and meditations inspire his art. As iconic Canadian Anishnaabe painter Norval Morrisseau so poetically described it, Bradley "journeys to the Land of Invention where all colours exist amongst the stars."
He perceives his spiritually inspired visions as a gift from the Universe. In his words, "It is to honour them and to try to realize their message that I paint what is given to me. Be it a healing or a teaching, I must acknowledge it for myself and for others."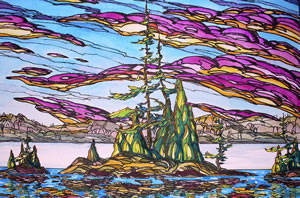 Bradley's paintings can be loosely grouped into two categories — dreamscapes and landscapes. Following a near-death and spiritually transforming experience in 1998, John became fascinated with dream-inspired art and enrolled at the Ontario College of Art and Design, graduating with an honours diploma in fine arts and a major in drawing and painting. Eventually his interests led him to develop and teach a course in dreams and symbology at the Ottawa School of Art, and he continues to offer courses from his current location in Burnstown.
Bradley cites Toronto physician and psychotherapist Dr. Yvonne Kason as having a decisive influence on his spiritual growth, introducing him to Eastern mysticism and the practice of meditative visualization. Kason specializes in counseling persons who are undergoing spiritual emergencies and is the author of A Farther Shore: How Near-Death and Other Extraordinary Experiences Can Change Ordinary Lives (HarperCollins, 1994).
As Bradley worked to release his creative energy, he began dreaming in vivid colour. His dream image remained fixed in his mind until he carefully sketched the details and recorded the colours he had seen. He then created a painting to portray the teaching he had received in his dream. One of his goals in sharing his mystically inspired paintings is to invite viewers to "see for themselves what they are meant to see or to feel" from his works. He is constantly rewarded and amazed by the responses his dreamscape paintings elicit.
Roots
Landscape is Bradley's other artistic passion, and his paintings beautifully reflect his love of nature, particularly as inspired by our great Canadian North. He was born in Sturgeon Falls, 35km west of North Bay, where his father worked for Ontario Hydro. The area has a strong aboriginal history, and this too is reflected in Bradley's art. He feels privileged to have been taught and mentored while at OCAD by Saulteaux First Nations artist Robert Houle, who was Curator of Indian Art at the National Museum of Man in Ottawa from 1977 to 1980.
Another well-known artist and OCAD teacher, Gordon Rayner, exerted a strong influence. Bradley could easily use Rayner's words to describe his own approach to landscape: "But when I'm up north my palette changes automatically and the method by which I paint changes, the aspects of touch and colour are more affected by the environment."
During his second year at OCAD, a wonderful friend gave Bradley the use of a cottage during the summer, and his surroundings inspired him to experiment with a new medium. He discovered his preference for painting with oils, finding them more pliable, less stressful, and producing wonderfully vivid colours. He had found his own voice. Bradley's landscapes, while evocative of Canada's beloved Group of Seven paintings, are distinctive and compelling. The viewer feels the painter's intent of "honouring the gift of Spirit."
Bradley always wanted to be an artist. As a kid, the eldest of six, he learned to draw by copying his favourite comic book characters and creating his own storyboards and comic "strips". One of his sisters, Norma Bradley-Walker, is a Montreal watercolourist and teacher. He remembers fondly how his art teacher in high school let him and his friend, James Cameron (Hollywood director born in Kapuskasing!) "do whatever we wanted." When he worked for the Fleming Oilfield company, Bradley created a cartoon character named "Reef Man" and his sidekick, named "Sump," for the company's reef mud magazine ads. He also illustrated editorials and worked as a cartoonist for the Orleans Star local newspaper.
Life continued to interfere with art, and he travelled all over Canada as a Retail Project Specialist for Canadian Tire. He designed creative displays, trained staff and management, and oversaw and facilitated the opening of new Canadian Tire franchises or their franchise upgrades. In 2002, he moved to North Gower and his art was represented at the Merrickville Gallery.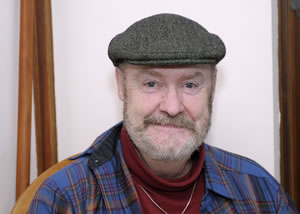 Dreams Do Come True (in Burnstown!)
It was only in 2012 that he finally achieved his lifelong ambition to become a fulltime artist. The Bittersweet Gallery at sculptor Richard Gill's Fog Run Studio in Burnstown invited John Robert Bradley to join their roster of artists. Even more important to Bradley, they offered him an affordable home studio, in the country, on a river — the ideal setting for him to realize his dream.
His new Burnstown location also provides him with an appropriate space to pursue his other passion. He will be offering classes for individuals and for groups of eight or fewer persons. He particularly enjoys providing a comfortable environment for beginners to work, without pressure, to discover their own artistic talents. His pleasure is apparent as he shares his favourite comment from a former student: "Your art is your talent, and your teaching is your gift."
Why not plan a lovely spring (yes — it will happen!) drive to Burnstown to see John Robert Bradley's newest works featured at Bittersweet Fine Craft & Art Gallery, 5 Leckie Lane in Burnstown? Most mornings he can be found at nearby Neat Coffee Shop, sketching or plotting another adventure in art.
See more of John Robert Bradley's evocative dreamscapes and stunning landscapes at the top of the page. His coordinates are also available right here.
Humm profile by Sally Hansen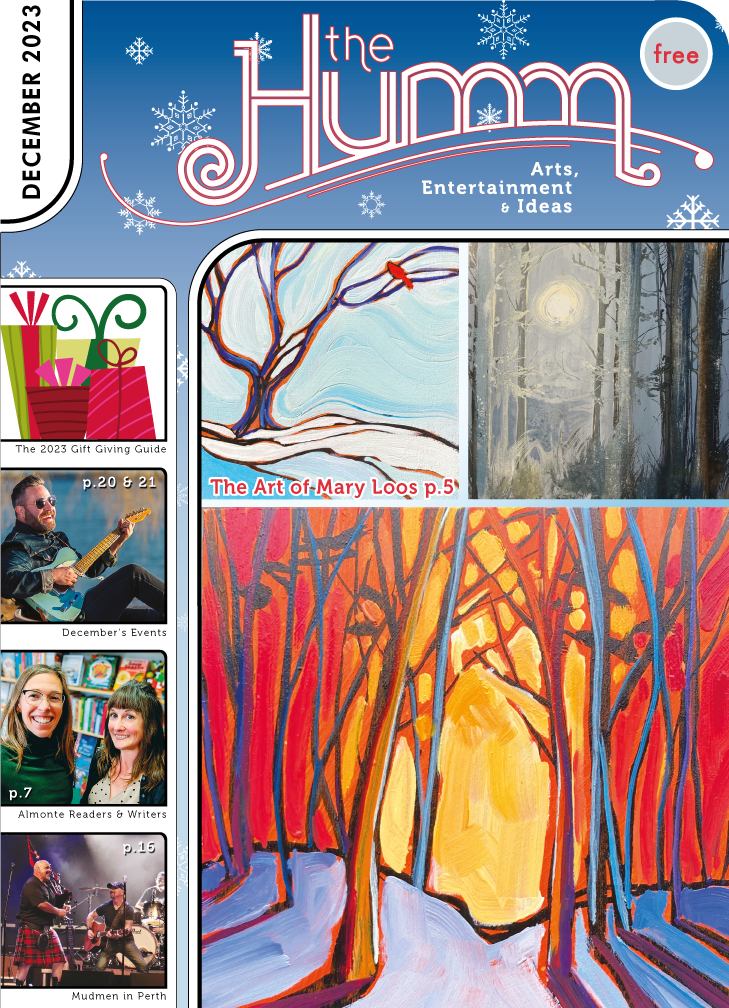 (pdf)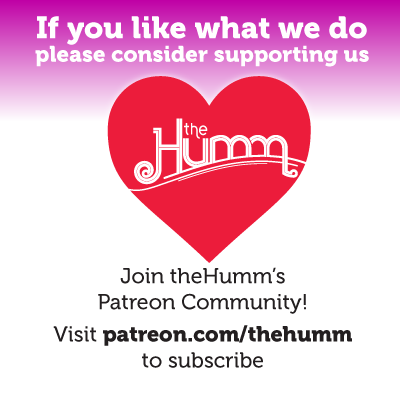 December 2023