Robert Pauly, Milliner, Jeweller, Art Quilts
Date Published: Wed, 01 Jan 2014
Robert Pauly - A Happy Hatter Who Hates Humdrum
Some people prefer stark, minimalist elements in their homes, their personal apparel, and their accessories. Others, like Robert Pauly, love adornment in all its forms. Pauly creates wonderful women's hats that run the gamut from whimsical to elegant. All are eye-catching.
Many of Pauly's millinery creations are bespoke hats — custom designed in consultation with his clients for special events like weddings, galas and parties. Each is a unique sculptural achievement designed to complement its owner's stature, face shape and personal taste.
Pauly couldn't have wished for a better publicity event than the wedding of Prince William and Catherine Middleton (Kate to the British media) in April 2011, when various guests sported wonderful fascinators, or "mini hats". According to Wikipedia, the amazing model worn by Princess Beatrice of York caused such a media stir that it went on to become an internet phenomenon with its own Facebook page. The fascinator eventually garnered 99,000 Euros (roughly $140,000) for charity when Princess Beatrice auctioned it on eBay. Canadian fashionistas took special notice when Catherine, now Duchess of Cambridge, wore a vivid red fascinator during her visit to Canada a few months later.
By then, Pauly had been creating and selling hats for many years. He has always had an interest in fashion — as a costume designer, a sculptor and a jeweller. He describes his love for the "exuberant creations that grace the fashion world runways," citing renowned designers Galliano, McQueen and Westwood among his favourites. He especially loves the hats that accompany the dresses, hovering between fashion and sculpture.
Gilding the Lily
His foray into millinery began when he started adding antique hats and feathers and bits and pieces of vintage decoration to his wide-ranging collections of beads and fabrics. Eventually he studied millinery at Fleming College's Haliburton School of the Arts, where he was fortunate to learn from Karyn Gingras, the driving force behind Lilliput Hats, a well-known atelier and boutique in Toronto.
After Pauly blocks and shapes the base of the hat or fascinator, the form is rimmed with wire, bound with grosgrain ribbon, covered if appropriate, and lined and finished with a wide variety of vintage materials, feathers and trim. He also creates flowers and other imaginative decorations for his hats. An inveterate collector, Pauly uses his extensive assortment of antique French flower irons to form the leaves and petals unique to each flower. His hats become a showcase for the full gamut of his artistic creativity and talents, sporting everything from fabulous flowers to asparagus, depending on the occasion and the personality of the client.
Fascinators are secured to the head with hatpins and combs, so he has created a collection of gorgeous hatpins from odds and ends picked up in antique and charity shops. He roams the internet searching for exceptional and exotic adornments for his millinery creations.
Robert Pauly also designs and creates dresses and bustiers. It was a gradual, unplanned progression. A client would ask, "What should I wear with this?" and he would get involved as a fashion consultant. Sometimes that led to creating the outfit himself. He has always been fascinated with fabrics, beads, and all the accessories we humans employ to adorn and express ourselves. If he grew lilies, my guess is he would gild some of them and paint others. Next he would probably try his hand at breeding new varieties.
He held his first art exhibition in Montreal when he was barely seventeen. While working in the printing department of an Eaton's department store he took advantage of the company's liberal employee training policy to pursue art courses. He was soon exhibiting paintings with his instructor. He also worked as an electrician and stage manager in a theatre company, and became progressively more interested in costuming. Eventually he rented a shop and opened a gallery where he exhibited his aluminum sculptures.
A Dread of Dull
He didn't say so, but I get the feeling that Robert Pauly's grandmother played a very important role in how he has lived his life. "She only cared if I was happy," he tells me, as he discusses the non-traditional path he has enjoyed with his wife, Barbara Mullally, who is also a very talented jeweller. To truly appreciate Robert's avoidance of things he finds boring, I recommend a stop at their home and gallery in Clayton at 1259 Bellamy Mills Road. Words cannot begin to describe the eclectic range of decorative features he has designed and created. The siding on his house is a good example. Confronted with twenty bundles of shingles, he couldn't face the prospect of laying them out in straight lines. Instead he decided to "make it something I could stand for the next 25 years."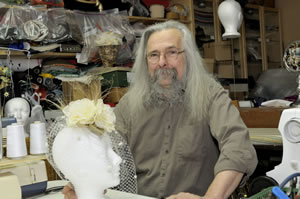 Robert's rules of happiness include being self-sufficient, avoiding hypocrisy and relying on your own judgement. He had an allergic reaction to the statement he heard too often as a youth — "We don't do this," from teachers, parents and counsellors. Maybe we don't, but he does if he decides it's right for him.
That is the one piece of advice he wishes his clients would follow. If you like yourself in a hat, buy it! He truly admires women who have the self-confidence to listen to themselves instead of asking a friend's or a husband's opinion. His favourite sale was to a woman whose husband remarked, "It looks like a goddamn flowerpot!" She smiled and said, "I'll take it."
Robert Pauly describes millinery as "jewellery for the head." Both his hats and his jewellery are on exhibit at Almonte's wonderful new shop at 63 Mill Street, General fine craft, art & design. He also creates art quilts and has turned his entire Clayton home into a work of art in its own right. His fabulous hats are on display on his website.
Get in touch
For full contact details, visit theHumm's Local Directory.
Hat model: Liisa Mountain
Humm profile by Sally Hansen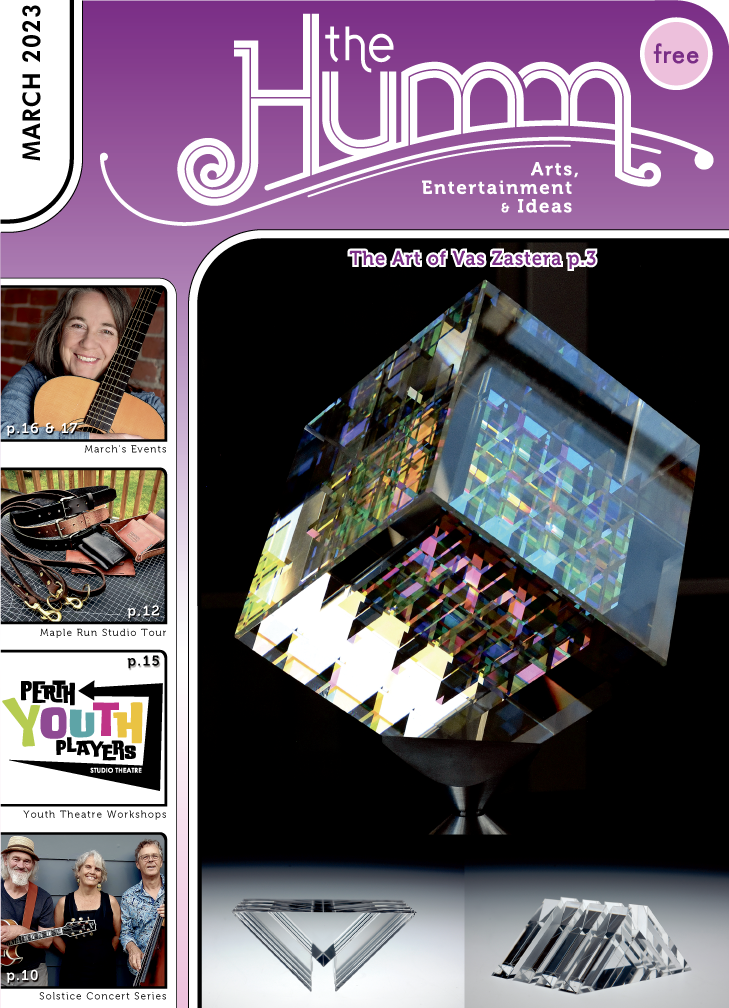 (pdf)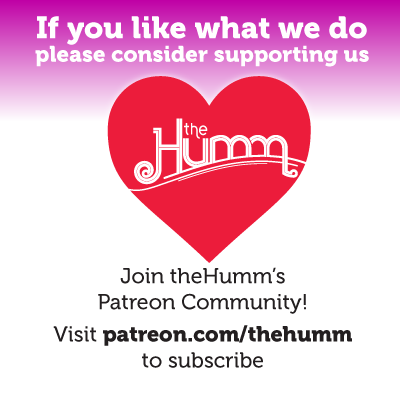 March 2023