Diane Black - Sculptor
Date Published: Sat, 01 Sep 2012
Diane Black - Ephemeral Emotions Captured in Clay
A wonderful poster of a scantily-clad elephant looking back over her shoulder with a delightful smile admonishes: "Of all the things you wear, your expression is the most important." Clay sculptor Diane Black of Westport agrees wholeheartedly. Black tells stories by creating captivating characters who convey human emotions and attitudes perfectly. One look at her female sculpture titled "Really?" and you are consumed with curiosity as to what has evoked the sardonic disbelief so clearly portrayed on her face and by her expressive body language.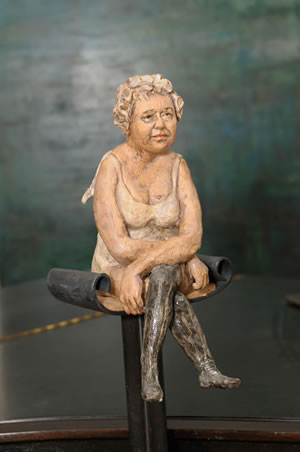 Black's quirky clay characters are convincing evidence of the popular aphorism that 80% of human communication is non-verbal. She readily admits to being a people watcher. "I like people and I like watching them. Children are fun — they are so open. Their faces telegraph exactly what they are thinking and feeling. Adults are so much more guarded."
Black's genius is being able to communicate emotion and attitude via a static medium. A glance at the first little girl featured in Gallery 2 on her website at proves my claim. "Just Make Me" is instantly recognizable to any parent who has ever dealt with a stubborn child. Our hearts go out to "Wall Flower" slumped dejectedly on her chair wearing her pretty little dancing shoes with bows on them.
Especially with the adult pieces, a large part of the fun for Black is the storytelling aspect of her compositions. One piece features a nude female sitting in a nest with a crow perched above her head. The title is "Feed Me?" Another, titled "Mama Bird," is a bust of a woman wearing a nest with three demanding baby crows on top of her head. The rueful look on her face instantly brought to mind a recent conversation I had with a first-time mom who lamented, "Much as I love her, I really feel like I'm brain-dead."
The expression on the face of the woman titled "Dreams of Flight" made me really glad that both my stepdaughter and my oldest granddaughter are exploring this fascinating globe before settling down. Of course, the sublime look of contentment on the face of the figure reclining in a feathered nest, titled "Empty Nester," re-minded me that all life is a trade-off. When I asked why so few of her figures are male, Diane responded that she enjoys working with what she knows best. She admits to studying her own face and posture in a mirror as she captures in durable clay the exact lines and configuration that portray a fleeting emotion.
Her interest in artistic blacksmithing began as an opportunity to do something with her teenage son. They took an introductory course together but she liked it more than he, and Diane continued with additional training. Now a major feature of many of her larger pieces is a beautifully wrought iron chair or stand or tree on which the sculpture rests. "I love the permanence of it; I can make things that are very strong but can still look delicate." On the clay figures themselves, she imparts a soft, life-like delicacy to her sculptures through her use of bisque glazes and the application of encaustic wax after the firings.
All Is Grist for the Mill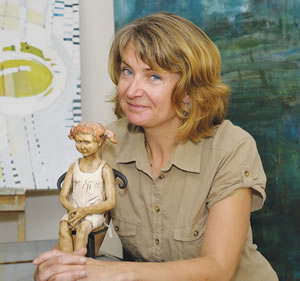 Four years ago Black pursued training as an electrician to assist her partner in his business, and now the two have embarked on a major renovation project in the picturesque town of Westport. A year and a half ago they purchased a property idyllically situated at the junction of Westport Pond and Upper Rideau Lake, close to Foley Mountain Conservation Area. They are well on their way to converting this site of a former grist mill at 21 Main Street into an artists' retreat, complete with two art studios, a gallery, and five rooms for artist/writer residencies. Diane intends to attract a variety of art instructors to offer courses spanning a wide gamut of media. One studio has a kiln in place, and a former garage houses a blacksmith shop. If nature is your muse, GristMill Artist Retreat soon will offer (spring 2014) an exceptional opportunity to study and create art gristmillartistretreat.com.
From Away
Diane's personal journey, like the site of the GristMill, has both a varied history and future. Her mother, Dorothy Black, is a painter. Diane was born on the west coast of Canada, but her dad accepted a position as a doctor in Newfoundland. She views the sixteen years she spent being "from away" as an interesting way to grow up. "Being an outsider gives you permission to be different."
Today Diane Black's sculptures are available in galleries across Canada. Locally you can stop in on weekends at GristMill Artist Retreat at 21 Main St. in Westport to contemplate the endearing, whimsical, amusing and thought-provoking characters she has created. Each one will inspire you to make up your own version of the poignant story the figure is telling. You can also check out progress on the stunning new addition to Westport's reputation as an artistic destination.
Fall Colours Studio Tour
Diane takes part in Westport's Fall Colours Studio Tour every year over the Thanksgiving weekend. Check theHumm's listing for the tour in the Local Directory.
Get in touch
For full contact details, visit theHumm's Local Directory.
Humm profile by Sally Hansen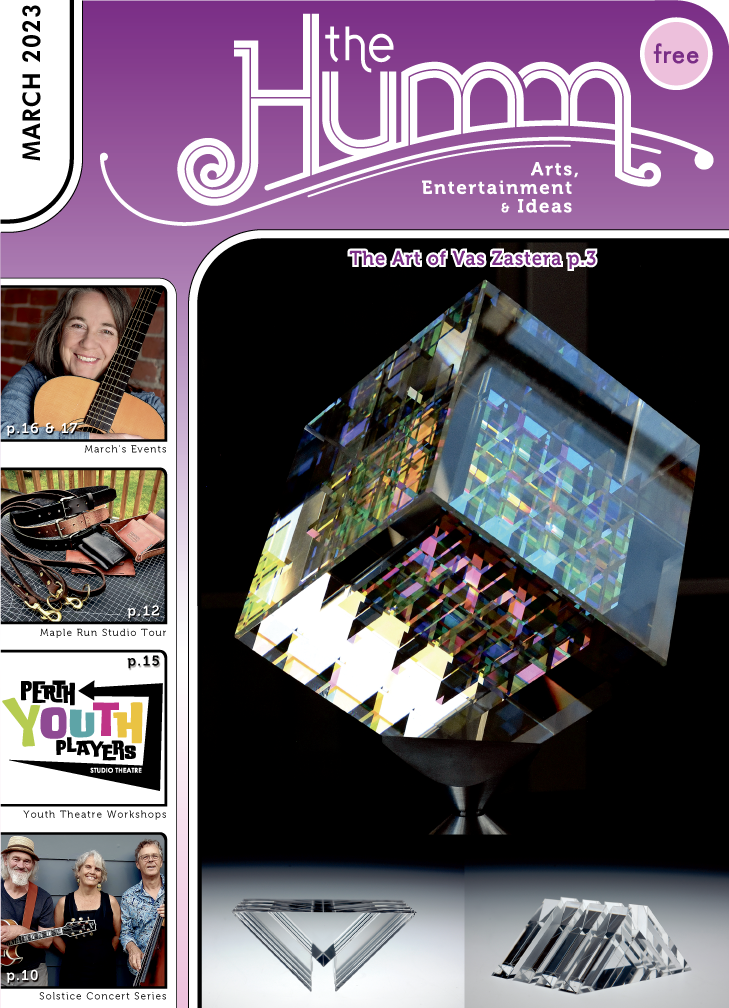 (pdf)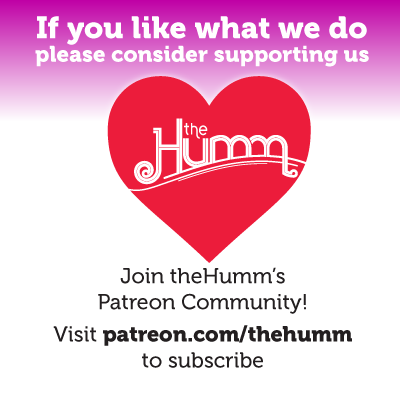 March 2023