Douglas MacDonald - Sculptor
Date Published: Sun, 01 Jun 2014
History Cast in Stone
He considers himself a lucky, lucky, lucky man. For the past 24 years, Douglas MacDonald has made his livelihood doing what he loves. The gargoyles and creatures that he creates in cast stone are his representations of and homage to the stone carvings that adorn ancient stone buildings from medieval times onward.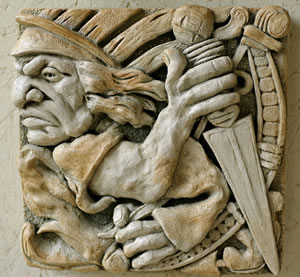 MacDonald's cast stone sculptures refute his claim that he can't draw. His ability to replicate architectural images in his chosen three-dimensional medium is remarkable — so much so that five of his pieces are available on Parliament Hill at the Parliamentary Boutique. Four of them are miniature replicas of the much larger (3' x 3') squares that adorn four corners of the Centre Block. There are two images of Indigenous Canadians, one Acadian smoking a pipe, and one stonemason.
Each cast stone sculpture represents an interest and a learning experience for its creator. MacDonald loves architecture and he loves history. When his research and his travels disclose an interesting architectural adornment, he digs into the origins and the background of the image that was painstakingly rendered by a master stonemason from a previous era. Stonemasonry is one of civilization's oldest trades, so his subject matter ranges from Pagan imagery through classical mythology across religious symbolism and icons all the way to secular and political ornamentation.
Casting for New Ideas
MacDonald takes pride in the fact that he constantly improves both the process and the materials he uses to replicate the decorative stone sculptures that adorn heritage architecture. Working from reference photographs, he sculpts a clay model from which he makes a mold. The shape and volume of each piece determines the attributes of its mold, and MacDonald has spent over two decades experimenting and perfecting the process.
Typically, he then fills the mold with a mixture of white Portland cement, stone chips and silica sand. He devises other mixtures and techniques to strengthen larger pieces. After the casting has cured, he usually applies a patina of iron and chromium oxide to give the piece the appearance of aged limestone. He finishes each sculpture with a sealer so that the piece can remain outdoors year-round.
Going Berserk
One of his favourite projects is his replication of many of the Lewis Chessmen. These 12th-century chess pieces were carved in walrus ivory, probably by Norsemen. Discovered in 1831 on the Isle of Lewis (and Harris) in the Outer Hebrides, they comprise one of the few complete surviving medieval chess sets.
(Permit me an aside. Following MacDonald's commendable research example, not only did your intrepid Humm arts reporter learn that the Isle of Lewis and Harris is the largest island of Scotland, my subsequent research at <harristweed.org> informed me that "by law only (handmade) fabric produced in the Outer Hebrides can be called Harris tweed.")
Much more relevant is MacDonald's explanation about the Lewis Chess piece known as the Berserker — who is depicted as biting his shield. When a customer requested a large Berserker instead of a gnome for her garden, MacDonald began his exploratory research. Berserkers are described in Old Norse literature as fierce, inhuman Viking warriors who fought in a frenzied, trance-like fury; ergo, the English word berserk. Historians conjecture that the consumption of psychoactive mushrooms and other drugs probably contributed to their fearlessness and ferocity.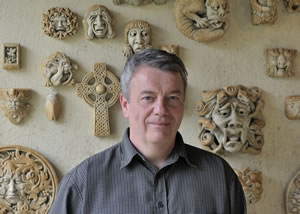 The original Lewis Chessmen are owned and exhibited by the British Museum in London, which has 67 of the original pieces, and the National Museum of Scotland in Edinburgh, which has 11 pieces. Douglas MacDonald's replicas will be on display at Kiwi Gardens over Father's Day Weekend (June 14 and 15) during their annual Art in the Garden show at 687 Harper Road near Perth (267-7384, kiwigardens.ca).
Where's the Architecture?
Culture shock experienced as an eight-year-old child had long-term consequences for new immigrant Douglas MacDonald. He remembers the long boat ride that transplanted him and his family from Glasgow, Scotland, in order for his father to take a job as a hydro turbine engineer. "Where is the architecture?" he asked himself. The sprawling malls of the Scarborough region of Toronto were as foreign to him as the Sahara Desert would have been. In fairness, Scotland's history is much longer than Canada's; the Kingdom of Scotland was established in the 9th century, and the University of Glasgow was founded in 1451.
After high school, MacDonald decided to follow in a friend's footsteps and try his hand at commercial photography. After mastering the basics at Humber College, he left to take a job in advertising, becoming an apprentice with a studio in downtown Toronto. For ten years he photographed advertising material for companies like Maxwell House, Royal Doulton, Danone and Apple Computer. Eventually he found the work becoming a grind; "It wasn't creative enough; I was a technician at the mercy of the Art Director."
Luckily, serendipitously, some clay was left behind as a prop in a studio. He began playing with it and molding faces. He describes it as a realization that this was what he was looking for — a passion. Today he says, "I'm the luckiest person in the world. I've been sculpting replicas of architectural artifacts for 24 years and I love every aspect of it."
By 1992 he had begun exhibiting his dozen sculptures in shows in the Toronto area. By 1998 he exhibited a much larger number at Kiwi Gardens near Perth. He also picked up a real estate paper, and in 1998 he moved to his current home and Rue Royale Studio on seven acres at 1606 Hwy 42 in Phillipsville (Google says it's in Elgin), five minutes southeast of Forfar Dairy in Portland.
Today Douglas MacDonald has over 300 molds in his inventory and is constantly expanding his repertoire. He is a regular exhibitor at a large number of area art shows.
Get in touch
For full contact details, a photo gallery of MacDonald's work and more, follow the links at the top of this page.
Humm profile by Sally Hansen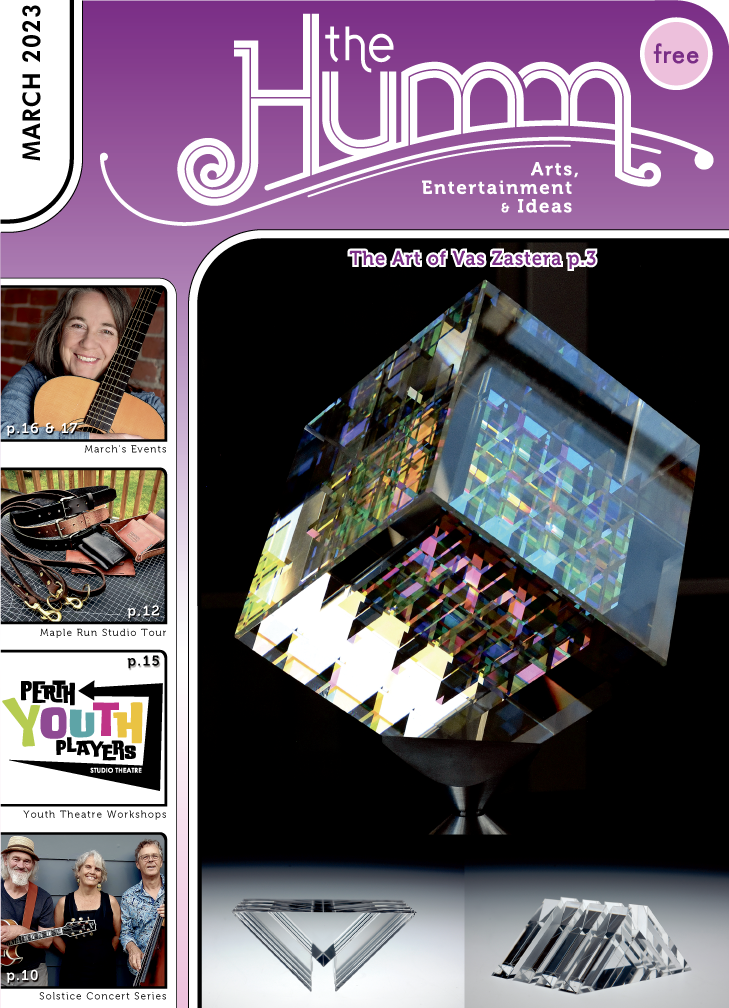 (pdf)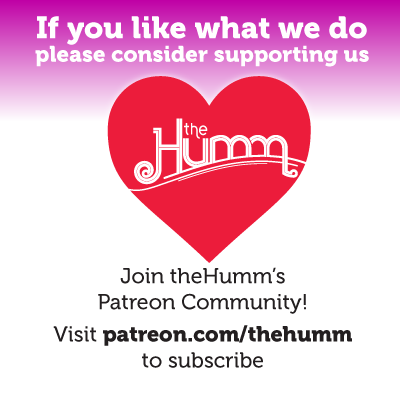 March 2023