Jeweller Profile Meredith Kucey
Date Published: Sun, 01 Nov 2015
Building a Legacy in Silver
It's the process that keeps Meredith Kucey firmly riveted to her jeweller's bench in her rural silversmithing workshop, designing and building brilliant heirlooms-to-be. Kucey loves to build. Tools that intimidate most females are just a welcome challenge to this graduate of the Nova Scotia College of Art and Design (NSCAD) who majored in jewellery design and metalsmithing.
Kucey has mastered all elements of the process, from design through fabrication and finishing. Her expertise in carving, casting and finishing results in jewellery that is innovative and visually exciting. During her recent participation in the area Crown and Pumpkin Studio Tour, she noted again that men are particularly attracted to her bold style. While their female companions admire her dramatic butterfly pendants, her delicate silver earrings and her distinctive silver rings, the men frequently select or commission a handsome silver ring for themselves.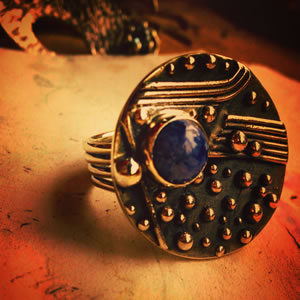 Kucey's craftsmanship is outstanding. She uses the traditional Lost Wax Casting process, and unlike many jewellers, does all her own casting. Carving, forging, and the use of both physical and chemical treatments of the surfaces, create a wide set of design options that she combines to realize her artistic visions. Her artistic goal is "to create jewellery that stirs the senses," and in my opinion, she succeeds.
Her workshop is replete with dangerous-looking objects that are either incredibly sharp or extremely hot, and I am hard-pressed to follow her enthusiastic mini-tutorial on how she builds a beautiful sterling piece. She loves working with metal, and has learned to respect the fluidity of the sterling silver she uses, constantly experimenting with techniques of forming, carving and pushing her materials to their limits.
Material Choices
Kucey's use of silver as the material for her artistic expression gives her a versatile medium that not only has a long tradition of use in arts but is also an important material with many applications in technology. The history of silver is rich and intersects in many ways with the development of our society; applications of silver extend from the arts to medicine, electronics and optics. It is one of the few metals found in its pure form in nature and has been known and prized since ancient times for its unusual properties that include luster, high reflectivity and ease of working. In its purest form, silver is very soft, but the addition of a small amount of copper lowers its melting point and increases hardness. Sterling silver contains 7.5% copper and is the most common form of silver in general use. It takes a high degree of polish and, while chemically inert, slow surface reactions occur that result in formation of dark coloured coating or 'tarnish'.
Meredith expands her artistic repertoire with semiprecious gems and is delighted with the Persian turquoise she selected recently at a gem show. She is looking forward to designing the perfect home for each stone. Turquoise is found among the world's oldest jewellery and has long been considered a stone that guarantees health, good fortune, and protection from evil <gia.edu>. In a Kucey ring, it will also guarantee an ongoing aesthetic pleasure.
Forging Ahead
Born in Nepean, Kucey attended Ashbury College in Ottawa where she was very active in sports. A knee injury in grade 10 caused her to shift her attention to the arts, with a special interest in the theatre program. While earning her International Baccalaureate credit in art, she was privileged to study for a month in Sienna, Italy. The fascinating experience solidified her resolve to pursue a career in art, and she chose jewellery as her life's work.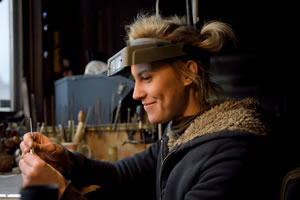 Her experience at NSCAD has left her a permanent fan of Halifax and its amazingly friendly, helpful citizens. After graduation she returned to Ottawa, where she supplemented her arts earnings by working as a medical receptionist for seven oral surgeons, honing her organizational and administrative skills. Almost twelve years ago she moved to her present wonderful location on the shore of the Mississippi River in Almonte. Throughout the past decade she has contributed to the success of the Crown and Pumpkin Studio Tour, both as an artist and organizer, and she recently became an enthusiastic gallery assistant at the General in Almonte.
Carrying a Torch
Kucey (formerly Kucey-Jones, if you come across her previous identity on the internet — she is in the painfully liberating process of de-hyphenating from her soon-to-be ex-husband) has always loved jewellery and states without reservation that she will always make jewellery. Recently, however, her love for building, combined with her love for metal, enticed her to complete Algonquin's course in Welding and Fabrication. She worked briefly at Branje Metal Works in Almonte, welding and finishing metal stairs and railings. Her next artistic goal is to design and fabricate metal accessories such as light fixtures, tables and other decorative home accessories.
As a certified welder, Meredith has participated in programs sponsored by the Canadian Welding Foundation and Skills Canada, designed to encourage young women to become welders. She points out that women can succeed in this male-dominated field by working smarter, not harder, and that they excel at fine work. This quote from vietnamwelder.blogspot.ca says it well: "You know, welders that work with their hands are labourers; welders that work with their hands and minds are craftsmen; and welders that work with their hands, minds and hearts are artists." Kucey is an artist.
Meredith Kucey's jewellery art will be on exhibit from November 3 to 29, 2015 at Almonte's General Fine Craft, Art & Design gallery at 63 Mill Street. She is delighted that her work will appear with the very tactile and complementary paintings of Lily Swain-Brady. The gallery is a wonderful addition to Almonte's humming arts scene, and a visit during November is definitely a welcome antidote to the looming winter blahs. Not a single item will be available at your nearest box store, and your Christmas shopping could not be more enjoyable.
Kucey welcomes commissions, and is equally comfortable working with gold, if that is your preference. To see her exceptional silver jewellery and/or discuss a commission, you can contact her (see details above).
Get in touch
For full contact details, visit theHumm's Local Directory.
Humm profile by Sally Hansen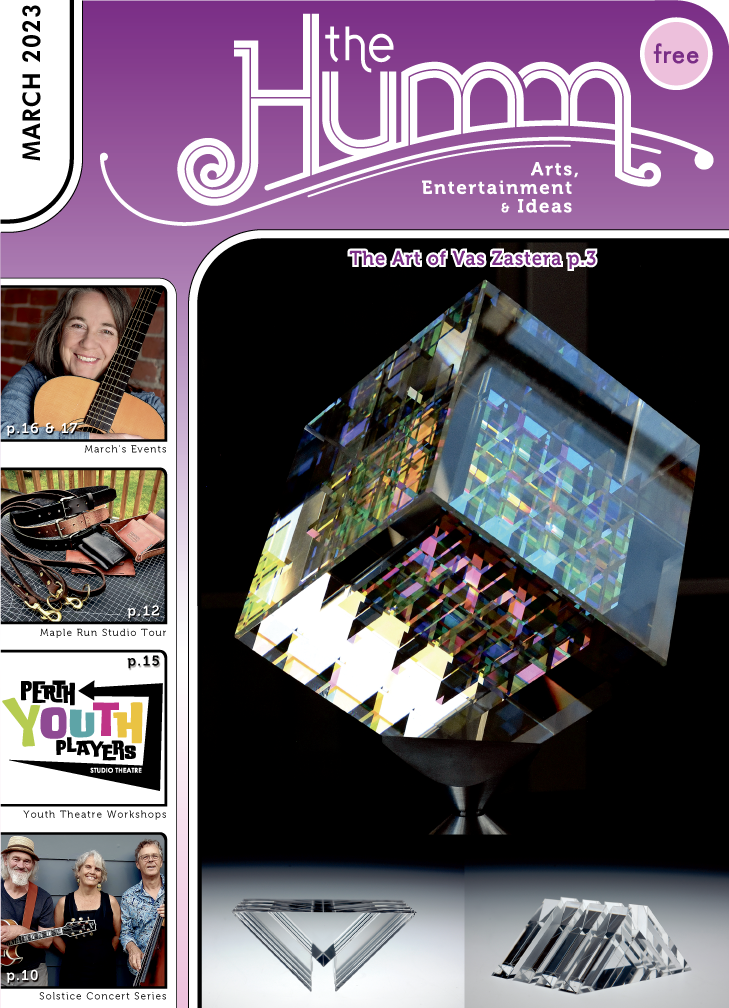 (pdf)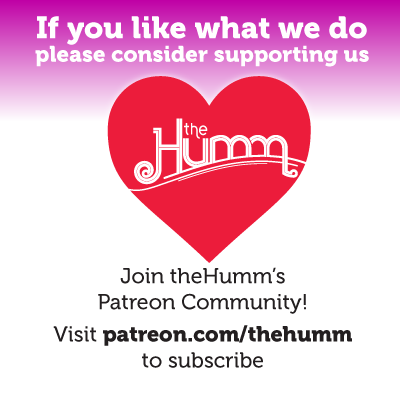 March 2023