Bill Buttle, ArtBeat Cartoonist
Date Published: Fri, 15 Nov 2013
Bill Buttle
ArtBeat Cartoonist, theHumm
Bill is a reluctantly aging member of the human race who loves duplicate bridge, most kinds of music (although he can only play competently in bluegrass mode), and drawing cartoons whenever he can.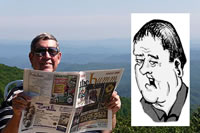 Recent years have been kind in allowing him to do these things almost constantly, so his already sunny disposition just increases in radiance with the passage of time, dulled only slightly by having a spouse who is taking forever to heal after a nasty fracture on ice in January. Still smiling, though... most of the time! Honest!!
Date Published: Fri, 15 Nov 2013
Dagne Forrest
Web Development, theHumm
One-half of Almonte-based Foil Media, the web development company partnering with theHumm Online, Dagne is also an avid gardener, baker and blogger.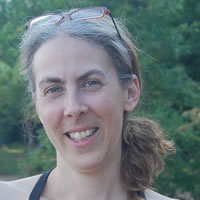 Having taught her children to bake sinfully good things, she now lives to berate them about the evils of eating too much sugar. She is a natural introvert who has never really recovered from playing Edith in the Pirates of Penzance in grade eight; these days she copes by singing, alone, in the car and reading aloud to her family (at least five books at any one time), as well as cooing to the family dog and chickens.
Dagne prides herself on being the kind of mother who exposed her children at an early age to 'Ferris Bueller's Day Off' - hoping to appear cool while warning them not to skip school (without her permission).
Date Published: Fri, 15 Nov 2013
Earle Barber
IT & Database Development, theHumm
One-half of Almonte-based Foil Media, the web development company partnering with theHumm Online, Earle spends every waking hour, and much of his time asleep, identifying and solving problems.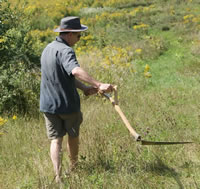 The day is not complete without at least one good conundrum and at least the beginnings of a solution. He's been known to sometimes bore or terrify his family with this propensity, but it's usually a thrill for clients.
When not at his computer or the whiteboard, he can be found scything, making useful stuff out of whatever he has to hand, cycling and even baking bread. A natural jokester and devil's advocate, he now (mostly cheerfully) bemoans the fact that his children live to rib him and take the other side of an argument.
Date Published: Fri, 15 Nov 2013
Emily Arbour
Columnist, theHumm
Emily Arbour is a freelance writer, shop owner and strung out mother of two who loves sleeping in but never ever gets to. Her hobbies include wine and whining. Also wine.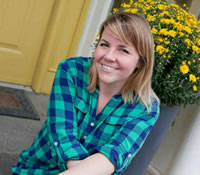 Date Published: Fri, 15 Nov 2013
Glenda Jones
Columnist, theHumm
Over the Ottawa border, but more Almonte than Ottawa, Glenda Jones's heart is firmly planted in this beautiful town.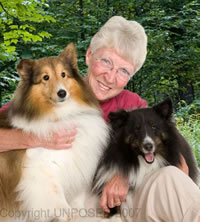 When she's not sharing her thoughts on everything from daisies to donuts, she is a possessed volunteer at the Hub, advocate for everything Almonte, Sage Age thespian, dog trainer, eclectic gardener, and erstwhile artist (not so good at the latter, she declares!).
Glenda enjoys her somewhat anonymous moniker as Reever, but delights when someone recognizes and appreciates what she writes: sometimes serious, most often not.
Date Published: Fri, 15 Nov 2013
John Pigeau
Columnist, theHumm
John (or Johnny to many) is the author of the acclaimed novel The Nothing Waltz, the founder of the First Edition Reading Series and the former owner/creator of Backbeat Books & Music in Perth. He's amicable, easygoing, and fond of a good time. Urgent yet kind, he would like "in your pants" to replace "in bed" as the add-on to fortune cookie fortune "jokes" and he strongly believes Oswald was a patsy.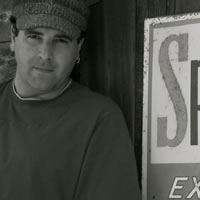 An Anne Tyler junkie and a U2 fanatic, his hobbies include angst, uncertainty, and golf. He dislikes guns, nuclear weapons, dental surgery, and last call. He adores funky hats. Quick with a joke, a student of compassion, his writing has garnered him comparisons to Raymond Carver and Nick Hornby; his looks, to George Clooney and Beetlejuice.
This year's goals: compete in first thumb war (win spectacularly!), master more than five chords on the guitar, and finish second novel, Speck. Currently his favourite word is "lousy." If possible, he would forever live in the late 1980's.
Date Published: Fri, 15 Nov 2013
Kris Riendeau
Editor, theHumm
Kris Riendeau is the editor, publisher, ad sales person, delivery girl, voice-activated flash holder and chief bottle washer at theHumm.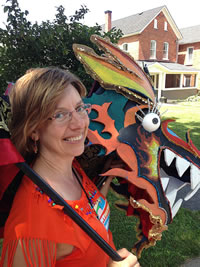 She is exceedingly grateful that the other members of the Humm Team, as well as all of the advertisers, readers, and movers & shakers in the thriving arts & cultural community have made it possible for her to do that job for over 15 year now. She appreciates each and every one of them, even though she does swear some at deadline time.
In her spare time, Kris enjoys singing, dancing, drumming, puppeteering, building dragons and inventing Maplelopes.
Date Published: Fri, 15 Nov 2013
Linda Seccaspina
Columnist, theHumm
Linda Seccaspina was born about the same time as the wheel was invented and the first time she realized she could tell a tale was when she got caught passing her smutty stories around in Grade 7. After she wrote her own obituary in 2010 when Derek "Wheels" Wheeler from Degrassi Jr. High died, people told her she should think about a career in writing obituaries.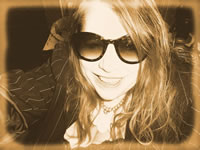 Before she laid her fingers to a keyboard, Linda owned the eclectic store Flash Cadillac in Ottawa. The Ottawa Citizen newspaper labeled her "The Maiden of Death" even though they had no clue why and she has had to deal with the rumours for years.
Linda has published three books and blogs most days on Zoomers Canada. She has been called the most stubborn woman in Lanark County and has requested her ashes to be distributed in any Casino parking lot as close to any Wheel of Fortune machine as you can get. But since she published her obituary, most people assume she's already dead.
Date Published: Fri, 15 Nov 2013
Miss Mills
Columnist, theHumm
Miss Mills is the official spokes-puppet for the Town of Mississippi Mills, which includes Almonte, Pakenham, and Ramsay Township.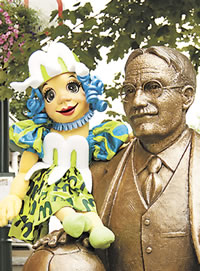 Created by puppet maker extraordinaire Noreen Young, Miss Mills dutifully attends every artistic, cultural and community event that vibrant Town throws her way (latex legs never tire of running around!). She also reports on upcoming events via her monthly Humm column, Mississippi Milling.
Date Published: Fri, 15 Nov 2013
Rob Riendeau
Layout and Design, theHumm
Rob Riendeau is the co-publisher and design-monkey whose arteries pump 4-colour process ink 24/7. "If you cut him, will he not bleed 40% cyan, 70% magenta, and 65% yellow?" (He also has most of a degree in English Lit.)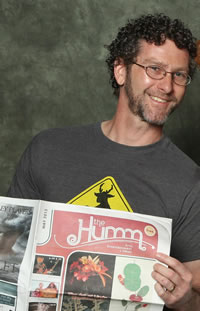 If he is sufficiently caffeinated, he feels great love and respect for all of the event organizers, shop owners, and other wonderful folks whose ads he gets to work on...
Date Published: Fri, 15 Nov 2013
Rona Fraser
Assistant Editor, theHumm
Rona is a gluten-free, if-it-doesn't-look-like-meat-it-doesn't-count vegetarian who believes in fairness, commas, chocolate, and making up words. She enjoys writing about ways to enjoy life and reduce stress, the gloriousness of chocolate, things to do around the Valley, how we can make the world a better place, permaculture, and pretty much anything else on her mind (that she can get past her boss).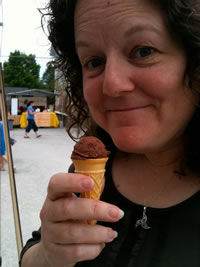 Some of her favourite pastimes include drinking hot chocolate, ranting, and adding as many commas and hyphens as she can get away with. Never ask her the date though - inputting Humm Calendar entries at least a month ahead of time, she has been known to rant about missing an event which has not yet taken place.
Her plans for the future include time travel, winning the lottery, and taking more vacations... though really, the first would take care of the rest!
Date Published: Fri, 15 Nov 2013
Steve Scanlon
Columnist, theHumm
Steve's gift is his ability to focus and to see a project through to comple... hey look - a pumpkin!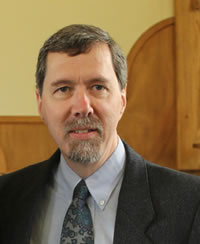 Date Published: Fri, 15 Nov 2013
Susie Osler
Columnist, theHumm
More than a decade ago Susie succumbed to the mysterious gravitational pull of Brooke Valley - a not-so-sleepy hamlet near the other hamlet of Maberly - and moved from Toronto to a farm.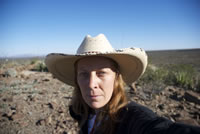 Though not a farmer herself, her admiration and value for local growers who are working in various ways towards food sovereignty is reflected each month (she hopes) through the pages of theHumm's Local Flavour column.
Susie creates some of her own "local culture" in the form of unique ceramic objects, some of which are found at Almonte's newest gallery/shop The General and at The River Guild in Perth. She is founder and part of the team that organizes an ongoing open-air public art project called FIELDWORK, which is situated in one of her fields.
When not engaged in any of the above-mentioned enterprises, Susie may be found cultivating edible (to the eyes and stomach) landscapes around her house, whispering to her animals, watching birds or playing music with her partner, talking to people about local history, seeking spacious landscapes (of the earth and mind kind) to hang out in, and dreaming up other, sometimes hair-brained, projects to do.
Date Published: Fri, 15 Nov 2013
Tony Stuart
Columnist, theHumm
Tony Stuart is a former professional musician with the Canadian Armed Forces, and is currently the Music Director at Notre Dame Catholic High School in Carleton Place. In 2009, he was the recipient of a Majic 100 "Golden Apple" award for excellence in teaching.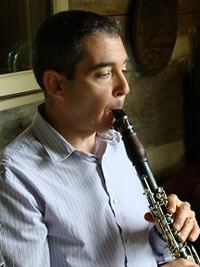 He also is the Choir Director at Zion-Memorial United Church in Carleton Place. Tony continues to be active as a professional musician, including being clarinettist/saxophonist with The Somerset Combo, and clarinettist with the classical trio "Capriccio", as well as performing in any other gigs that come his way.
Tony is a strong believer in the power of music to transform lives and make our society a better place.
Date Published: Fri, 15 Nov 2013
Patrick Arbour
Columnist, theHumm
Patrick has lectured on "Creativity" and "The Role of Emotion in Advertising" at colleges and universities in Canada and the U.S., has won over 75 industry awards, and has produced a series of marketing articles that have been published in local business magazines in Canada.
Today Patrick operates a company called justhink, providing marketing and creative coaching to businesses large and small.
Date Published: Fri, 15 Nov 2013
Matt Roche
Columnist, theHumm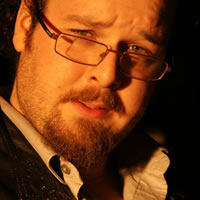 Matt Roche is a lifelong film buff and self-proclaimed cinephile. Being introduced to the wonders of cinema and literature at a young age, they quickly became his passion.
He can be found nose-deep in a book or in a darkened movie theatre at any given moment. His favourite films include North By Northwest, The Seventh Seal, The Shining and The Big Lebowski; and favourite writers include Hunter S. Thompson, Iain Banks and Cormac McCarthy.
When Matt is not watching movies and writing plays and scripts that no one reads, he enjoys playing tennis, utilizing his sister's pool, the usual; bowl, drive around, the occasional acid flashback...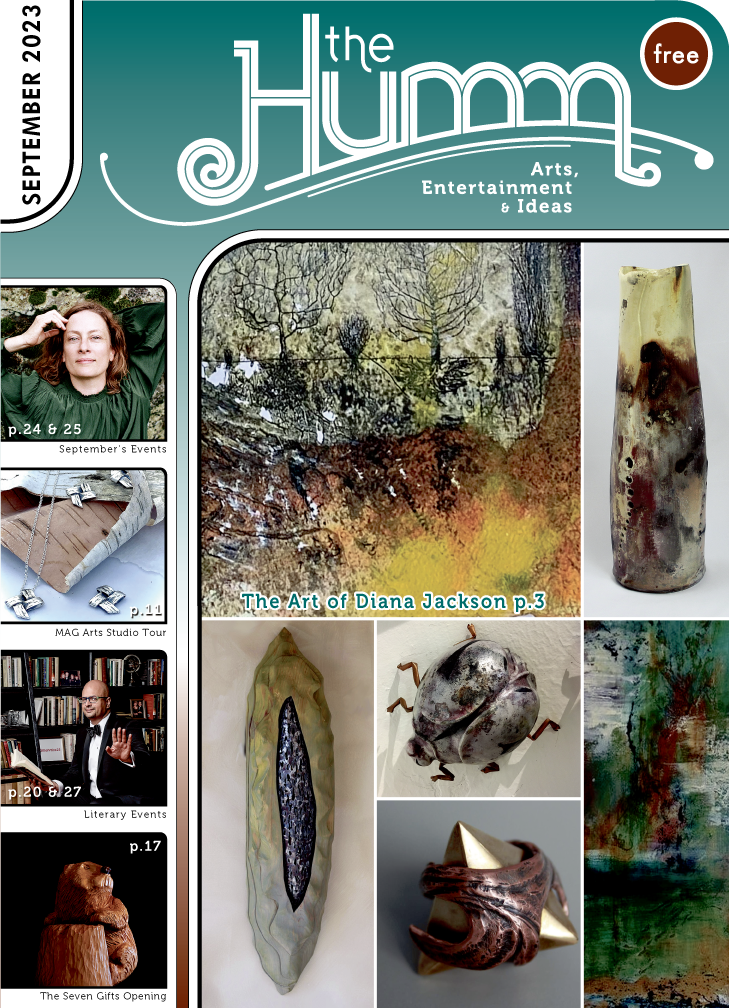 (pdf)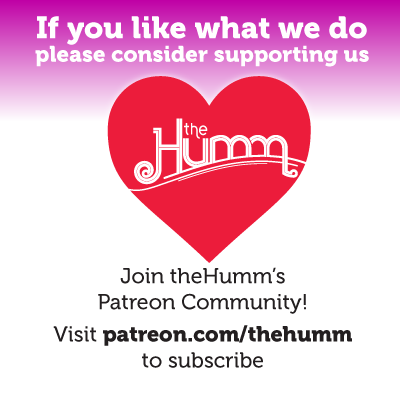 September 2023