Ottawa Valley Local Recipes
All of the recipes provided here come from local food producers who have been profiled by theHumm and are on our local directory. Check out the Profiles section or go straight to their listings in the Local Directory under Local Food.
Kale and Pistachio Biscotti
For our July 2014 issue, local food blogger Rebecca Eide created the recipe for these beautiful biscotti, taking inspiration from Elm Tree Farm. For the full recipe, see the Elm Tree Farm info page.
Best Ever Minted Sugar Snap Peas
Elm Tree Farm (Arden)
Glossy, mint-infused sugar snap peas are produced through a cooking method which uses lettuce leaves to preserve the colour and moisture, without adding other liquid. This method yields exceptionally flavoursome peas, and any large-leafed lettuce will work.
In a smallish saucepan, place 4–5 washed lettuce leaves, still a bit wet. Snug in about a ½lb of sugar snap peas, strings removed. Tie together a bundle of fresh mint sprigs and two scallions, and place on top. Add another 4–5 washed lettuce leaves on top and place on high heat until you see steam come up. Cook, shaking several times, for 4–6 minutes. Remove lettuce and mint sprig. Enjoy!
Salted IPA Bagels using Whitewater Class V IPA Beer
For our June 2014 issue, local food blogger Rebecca Eide created the recipe for these scrumptious bagels using a brew from local craft brewer, Whitewater Brewing Co. For the full recipe, see the Whitewater Brewing Co info page.
Meatballs with Anise Hyssop
Aster Lane Edibles, Kinburn
Ingredients (all roughly approximated)
Minced garlic to taste
Finely chopped onion
Grass fed, organic beef, or other minced meat
A bit of flour
An egg
A bit of salt
Finely chopped anise hyssop
Red wine and tomato sauce
Mix all together (except wine & sauce) and form into meatballs. Brown the meatballs on all sides in a frying pan with olive oil on medium low. Add a splash of wine, let that cook up and add a can/jar of tomato sauce. Add salt to taste. Let the meatballs finish cooking in the sauce. Serve with your favorite grain, such as quinoa or rice.
Ingredients
Burgers:
500g minced goat meat
2 cloves garlic, crushed
1 Tbsp. dried mint
2 Tbsp. chopped green onions, chives or onion
1/4 tsp. each of salt and pepper
olive oil
Lemon Mayo:
6 Tbsp. mayonnaise
1/2 tsp. lemon juice
1/2 tsp. cayenne (or to taste)
baguette, lettuce, tomato, feta cheese
Mix together in a bowl: the ground meat, crushed garlic, mint, green onions (or chives or onions) and salt and pepper. Make patties. Heat frying pan and add a little olive oil. Add patties and cook until done. While they're cooking, mix together the ingredients for the lemon-garlic mayo. Set aside. Cut baguette to fit the size of the meat patties. Slice baguette pieces in half lengthwise. Spread the lemon-garlic mayo on baguette, place burger on top, add lettuce, tomato and feta cheese and dig in. But don't forget to wash your hands with lovely goat milk soap first!
Sunflower Buttery Spread
Kricklewood Farm, Frankville
Ingredients
1/2 cup cold pressed sunflower oil
1 stick butter (1/2 cup)
Soften butter at room temperature, whisk by hand until smooth. Slowly whip sunflower oil into the butter until well combined. Cover and refrigerate until hardened. Remove and allow to soften slightly. Use in place of butter over steamed vegetables, baked potatoes, pasta, corn on the cob or popcorn.
Ingredients
2 bunches of curly green kale
¼ cup tamari
½ cup water
¾ cup tahini
¼ cup cider vinegar
2 scallions
1 clove garlic
1 lemon (juice of)
¼ cup nutritional yeast flakes
¼ tsp sea salt
Wash kale and strip leaves from the stem. Tear into whatever size pieces you'd like the chips to be. Place kale in a large mixing bowl. Combine the rest of the ingredients in a blender and blend until smooth, to get a thick consistency. You may have to add more water. Pour over the kale and mix thoroughly with your hands to coat the kale evenly.
Place kale on a greased cookie sheet, being careful not to let the pieces overlap. Bake for about 10 minutes at 400 degrees. Pay close attention to the chips, and turn them over after about 5 minutes, so that they bake uniformly. May need to do multiple batches to keep the chips from overlapping. Another delicious option is to dehydrate them!
Soak 1 cup Castor River rolled oats overnight in a bowl with 1½ cups water and ½ cup kefir, yogurt or whey, plus dried fruit, nuts and seeds of your choice. In the morning, add fresh fruit (August Ontario peaches are delicious), cinnamon, honey and/or maple syrup to your serving and enjoy!
Note: Soaking the oats overnight like this makes nutrients more available and releases phytates which can have a detoxifying effect.
Ingredients
2 bunches of dandelion greens, washed and chopped
4 cloves of garlic, pressed
1 Tbsp balsamic vinegar
2 dried chili peppers (optional, to taste)
Salt, to taste
Blanch the dandelion greens for 1 minute in boiling water. Drain and set aside. On medium heat, sauté garlic (if using chili peppers, add them along with the garlic) in sesame oil. When garlic turns light brown, add greens. Stir to mix the garlic in well. Add balsamic vinegar and stir up the greens well. Add a couple of tablespoons water, close the lid, lower the heat to minimum and cook for 2 more minutes.
Serve with brown rice and/or lentils.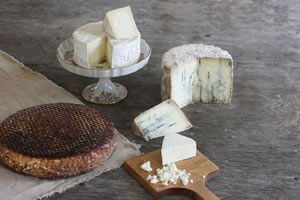 Buy some Back Forty cheeses. Place on a cheese board. Cut a piece and note the texture, colour and aroma of the cheese. Put it in your mouth (forget the crackers) and let it linger. Savour. For pairings with beverages, see the Back Forty website.
Pancakes with Maple Syrup
Fortune Farms, Almonte
Pancakes with butter and maple syrup are the quintessential maple experience. Try this Fortune Family Favourite Pancake Recipe (serves 4).
Ingredients
1 cup unbleached white all-purpose flour
½ cup whole wheat flour
¼ cup corn meal
¼ cup quick cooking oatmeal
2 tablespoons baking powder
¾ teaspoon salt
2 eggs, beaten
2 tablespoons unflavoured oil (not olive)
1½ to 2 cups milk
For fluffy pancakes, use a lumpy batter and a hot griddle.
Lemon Verbena Cocktail
The Herb Garden, Almonte
Ingredients
1 cup water
¼ cup sugar
¼ cup torn lemon verbena leaves
¾ cup white rum
¾ cup chilled club soda
juice of 2 limes
Lemon verbena is a great herb to plant in a pot for the patio. Put it in a sunny spot next to where you'll sit (and sip the cocktail) and stroke it to release its intense lemony scent.
Combine water and sugar in a small saucepan. Rub torn lemon verbena leaves to release oils. Add to sugar water. Bring mixture to a boil. Stir and cook for 30 seconds. Cool completely. Strain mixture. Combine mixture with rum, soda and lime juice. Serve over ice and garnish with lemon verbena leaves.
Ingredients
1 cup flaked cooked trout
1 cup shredded Monterey jack cheese
? cup finely chopped celery
¼ cup dairy sour cream
2 tablespoons finely chopped onion
? teaspoon pepper
30 Melba toast rounds or rich round crackers
Paprika, optional
In a small bowl, mix fish, celery, cheese, sour cream, onion and pepper. Mound about 1½ teaspoons of the mixture on each cracker. Place crackers on a baking sheet. Sprinkle with paprika, if desired.
Set oven to broil and/or to 550°F. Broil 6 inches from heat until cheese melts - 2½ to 3½ minutes. Makes 30 appetizers.
Concord Grape Focaccia
Castlegarth Restaurant and Food Shop (closed 2013)
Makes 2 (you will want to eat both).
Ingredients
200 ml warm water
1 ½ tsp sugar
1 ¼ tsp active dry yeast
3 Tbsp melted butter
2 cups flour (we use 1 cup unbleached & 1 cup Red Fife)
½ tsp salt
concord grapes
rosemary
coarse sea salt
olive oil
Combine the water, sugar, yeast and butter in a glass measuring cup and allow to sit for ten minutes. Add the flour(s) and salt to a large bowl (this can be done in an electric mixer) and slowly add the liquid while stirring with a wooden spoon until combined. Dump onto a lightly floured surface and knead (if the dough is a little sticky, flour your hands). Knead until the dough just starts to tear. Place in a lightly oiled bowl and rub with olive oil. Allow to double in size. When the dough has risen, put it back on the lightly floured surface and divide into two balls. Flatten into rough circles about eight inches in diameter, and put on an oiled baking sheet. Allow to double in size. Preheat oven to 400°F. When dough has doubled, with your fingers, poke dents into the surface of the dough and scatter with grapes, rosemary and a light sprinkling of coarse sea salt. Bake until bottom is lightly golden.