Wildrose Country Homestead - Clayton ON
Listing Contact: Email: goats.n.soaps@gmail.com
Website
Location: 613-256-5011
345 Concession 9 Darling RR2 Clayton ON K0A 1P0
Handcrafted pure goat milk soaps, lip balms and other toiletry items, goat meat (by piece or whole), custom gift baskets, farm stay/cabin rental, soap making workshops. Farmgate sales, retail locations, and Carp Farmers' Market.
Profile by theHumm
Date Published: Thu, 01 Nov 2012
Wildrose Country Homestead
How many of you are living out your dreams right now? More often than not it seems to be the case that dreams remain locked in their "proper places" — our imaginations — and are never given a chance to be realized. Well, Anita Dworschak has more or less thumbed her nose at that (or any) trend since her kindergarten years and has built her life according to the "callings" she has felt drawn by.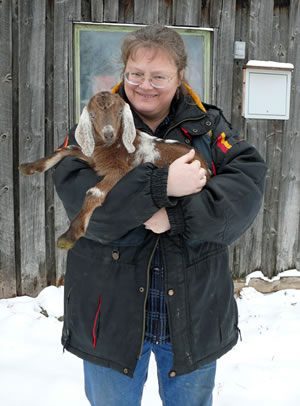 She is no ordinary woman. At 49 she has a 150-acre homestead in a remote part of the Lanark Highlands where she keeps a flock of Nubian and Alpine goats, for milk and meat, that is watched over by her Pyrenees flock guard dog Misty. She also raises a couple of pigs (that are fed goat milk all summer), some Muscovy ducks, several cats, and fish. She can hunt, raise and butcher her animals, grow and preserve food (when goats don't get to it first), spin fleece, make cheese, turn goat milk into bars of soap, host a constant stream of WWOOFers (World Wide Opportunities on Organic Farms), and, oh yeah… drive big trucks… as in 18-wheelers!
Born to parents of German descent, Anita grew up in Orleans at a time when chickens and fields were still part of the landscape. She shared a passion for self-sufficiency and the wilderness with her late father — an avid hunter who'd lived on a dairy farm in Germany before immigrating to Canada. Anita also loved trucks and, at the tender age of 21, moved to Toronto to get a job driving a big rig. She went on to spend nine years as a long-haul driver — one of the people who log thousands of miles criss-crossing the continent delivering… everything. She loved it and says the trucking community was like a big family. In fact, she still drives part-time, on shorter routes, to supplement the income she derives from her homestead.
Long-haul driving and homesteading may not at first seem much related, but it got me to thinking that both would demand a streak of independence, a love of the outdoors and open spaces, a contentment to reside in one's own company, a taste for challenges, a hunger for "the frontier", and likely a certain amount of fearlessness and drive to boot (no pun intended).
In 1998, as she was looking to satisfy her hankering to homestead, Anita found "just the right place." Wildrose Country Homestead, located at the end of a gravel road and nestled amid small fields and forest, is where she has called home ever since.
Among the many essential skills she has learned in the ensuing years is soap making. She was taught this from a mentor/friend of hers who also homesteads (with twelve children, no less!). Wildrose Country Homestead Soaps are now sold through at least fifteen small and large retail outlets around the county (see the website for a list), as well as at the Carp Farmers' Market. Anita is now hoping to scale-up her business to the point where she can make a living from soap alone. (Perhaps a good investment opportunity for someone?!)
Though only three main ingredients are needed to make soap — fat, liquid and lye — commercial soaps are usually laden with a litany of other less desirable ingredients — chemicals that are sucked into our bodies through our skin. In fact, 60% of what we put on our skin gets absorbed. One might want to reconsider what we deem "acceptable" to slather our skins with…
On the other hand, Anita uses 100% whole, fresh goat milk in her batches, plus a few select top quality ingredients. Goat milk has many attributes. It is a natural emollient that soothes and moisturizes the skin, is said to have anti-inflammatory properties, and is a natural exfoliant. It also contains vitamins A, B12, B6 and E. For anyone, especially those with sensitive skin, goat milk soap is the way to go.
Anita's creative streak shines through with some of her soaps. From the beautiful Lanark Marble bars that combine calcium carbonate from the nearby Tatlock Mine and mineral powders (red iron and indigo) that create a faux marble appearance, to the edible-looking Chocolate Raspberry soap bar, there are varieties for purists and scent-sensualists alike.
And in case anyone wants to learn the art of soap making, Anita holds three-hour sessions to teach you the ins and outs of this ancient skill.
Homesteading is not a cake-walk, but challenges that would crush many are what keep Anita engaged in her life and give it purpose, satisfaction and joy. She, for one, is living her dream with all of its adventures, right now.
Get in touch
For full contact details, visit theHumm's Local Directory.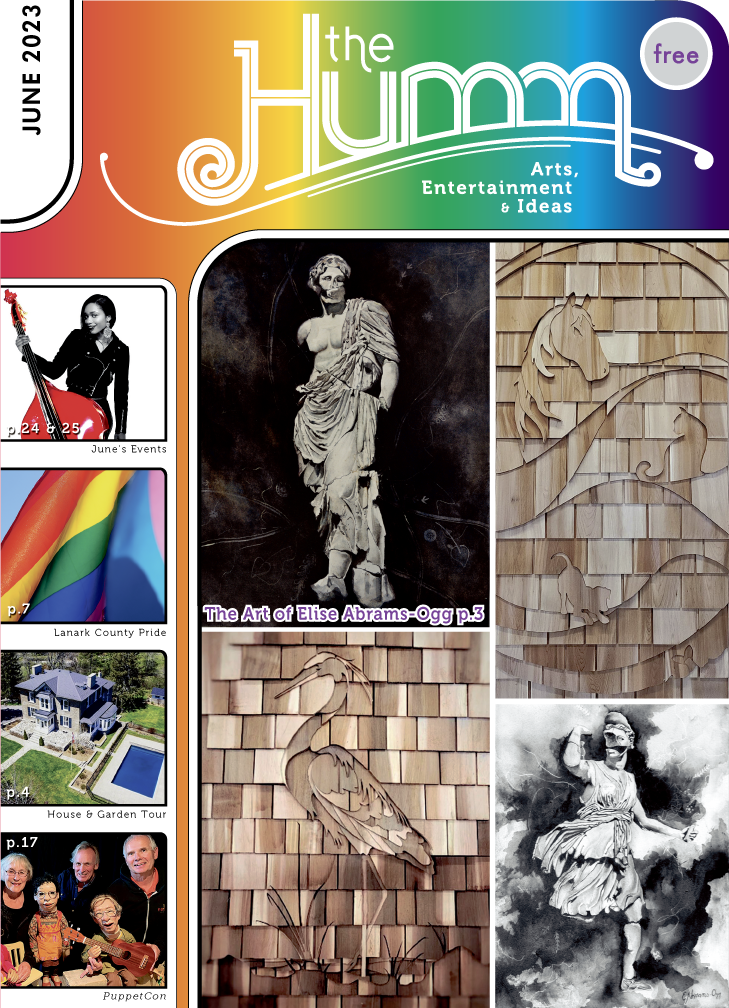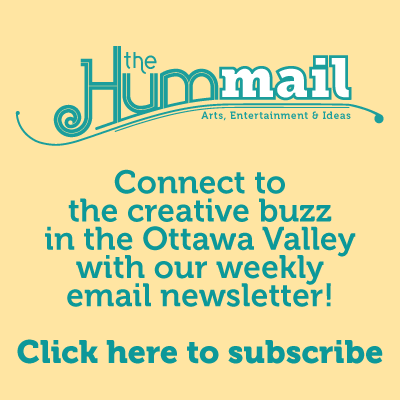 June 2023