General Fine Craft, Art & Design - Almonte ON
Listing Contact: Email: generalfinecraft@gmail.com
Website
Location: 613-461-3463
63 Mill Street Almonte ON K0A 1A0
The General is a gallery exhibiting and selling the work of highly skilled, innovative makers. The bright, open space is designed to showcase functional / non-functional craft and fine art from artists mainly working in Ontario and Quebec.
Profile by theHumm
Date Published: Sat, 01 Feb 2014
Norman Takeuchi: On The Edges Of Noh
Norman Takeuchi was profiled by Sally Hansen in the February 2004 issue of theHumm. Below, Richard Skrobecki (owner of Almonte's General Fine Craft, Art & Design) discusses Norman's background and his recent work, which will be exhibited at the gallery for most of February.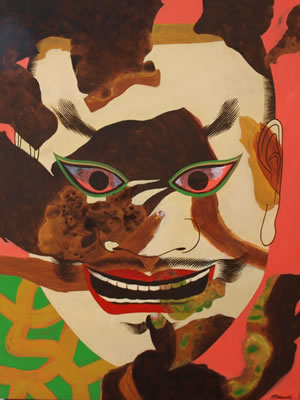 For some artists, making art can be a deeply personal and challenging process — painful at times, riddled with self-doubt and taking years to achieve real creative satisfaction. But the results, over time and transitions, can be life-changing.
The development of artist Norman Takeuchi's work can be described as a journey through cultural identification and aesthetic experimentation peppered with peer encouragement and, as Norman says, "lucky" opportunities.
The Takeuchi family was one of a handful of Japanese Canadians living in Westwold, a small farming community in the interior of British Columbia. They moved there from Vancouver, anticipating the implementation of the War Measures Act of 1941 which stripped the rights of twenty-two thousand Japanese Canadians as free human beings, labelled them "Enemy Aliens", and restricted them from living anywhere within 100 miles of the B.C. coast line. The Act, motivated by fear, paranoia, racism and opportunistic politicians, devastated the lives of first- and second-generation Japanese Canadians — honest, hard-working people not deserving of such upheaval and humiliation.
Norman Takeuchi was a child when all this was happening. And, like any child, he went about the business of growing up, somewhat oblivious to the hardships his parents felt. After finishing high school and an obligatory year of working for his father (a landscape gardener), he enrolled at the Vancouver School of Art (now Emily Carr University of Art and Design). His early interest in art had been heightened when first seeing "an actual painting" hanging in the home of one of his father's clients. Art school was a delightfully eye-opening experience for Norman; a bold introduction to his new life as an artist.
Takeuchi studied painting and commercial art, taking a job with an advertising company after graduation. Nine months later, he received a scholarship to paint in London, England where he explored abstract expressionism, sharing a flat with two other young artists. This was 1962-63, when David Hockney's Royal College of Art graduation show was shaking up the art establishment with its pop sensibilities. Norman's eyes were again opened to the exciting evolution of movements in art and culture. Before he left, he was offered a solo exhibition at London's Thames Gallery.
His London studio sojourn expired, Norman returned to Canada in need of a steady income. Friends directed him to Ottawa where he was hired as a junior exhibition designer for Montreal's Expo 67. He worked with Tom Wood and Robin Bush on the Canadian Pavilion, an experience he found exciting and creatively rewarding, and which would provide future career opportunities. By now married to Marion, he received a Canada Council grant for another year of studio work in London. His exhibition design career continued when in 1970 he and Marion lived in Osaka, Japan working on Expo 70 for six months. When they returned to Ottawa, Norman was hired as an exhibition and graphic designer with the Canadian Museum of Nature, where he remained for twenty-five years.
During this time he painted little, but life drawing sessions every Sunday at the Nepean Visual Arts Centre kept him engaged creatively. He moved into using chalk pastels and then acrylic paint on canvas and paper. Tom Wood encouraged him to take art-making more seriously, so he began to explore working in series: first milkweed studies, then bone drawings, then abstracted imagery, leading to total abstraction. This process of series allowed him to explore ideas to their fullest.
By now, Norman and Marion were living on a hobby farm near Ashton (west of Ottawa) where they kept two horses. Always inspired by his love of nature, they lived on the farm for nineteen years before moving back to the city. Norman is keenly aware that his art career would not have progressed as it has if it wasn't for the vital role Marion has played in providing support in countless ways: as organizer, archivist, bookkeeper, gentle critic; so much so that it is impossible to not view the two as a team.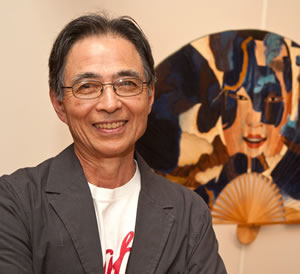 Takeuchi's Japanese heritage was becoming more important to him when, in 1995, he saw an exhibition of dyed and painted kimonos by Japanese master Itchiku Kubota. These triggered something in him and inspired him to start using the iconic imagery of Japan as the next theme in his work. With this, he began to "visually interpret" who he was, dealing with long-held emotions surrounding the internment years and his own cultural identity.
In 2005 he met Ottawa writer, lecturer and independent curator Maureen Korp, who invited him to participate in an exhibition she was organizing at Karsh-Masson Gallery entitled Without A Passport. It explored a diverse group of artists' cultural identity experiences and brought Norman some critical notice, leading to other successful shows, both group and solo, in Canada and abroad.
His iconic Kimono series was followed by a series that specifically looked into his struggles identifying as Japanese Canadian. This lead into the series entitled On The Edges of Noh, currently showing in Almonte at General Fine Craft, Art & Design. (Almonte-area residents may recall his 2003 solo show From The Ground Up at Philip K. Wood Gallery and 2012's very memorable Hair Lines at the Mississippi Valley Textile Museum in which he presented larger-than-life exquisite conté drawings of fellow exhibiting artist Karen Jordon's wrapped and twisted hair sculptures.)
On The Edges of Nohis an overview of his 2010-13 series using Noh mask imagery. Noh is an ancient traditional form of Japanese theatre incorporating drama, music and dance with actors as human and ghost characters wearing beautifully carved and painted wooden masks. In his work, Takeuchi isolates the mask for its iconic quality, then incorporates abstractly painted areas. The colourful mask imagery is purposely fragmented, emerging or disintegrating in and out of agitated abstraction and areas of pattern. The contrast of these two elements represents his unsettled feelings that have surfaced over many years of personal reflection.
Through creating these iconic series of paintings and pastel drawings, his painful family history and his own "uneasiness with shame and anger" have given way to reconciliation, healing and the ability to embrace his Japanese heritage. Indeed it is the dual experience of Japanese and Canadian heritage that he embraces here. Takeuchi's approach to art-making is "a conscious attempt to find new ways of expressing these very things". His next series of paintings (showing in March at Ottawa's Cube Gallery) goes beyond the mask. He's not sure what to make of it yet, but rest assured, it's all part of "the natural progression of taking chances" that he thrives on.
On The Edges of Noh
On The Edges of Noh continues February 4 - March 2, 2014 at Almonte's General Fine Craft, Art & Design. Meet the artist on Friday, February 7, from 7-9pm. For more details, visit www.generalfinecraft.com
Humm profile by Richard Skrobecki, owner of Almonte's General Fine Craft, Art & Design, with Norman Takeuchi
Exhibiting Artist Norman Takeuchi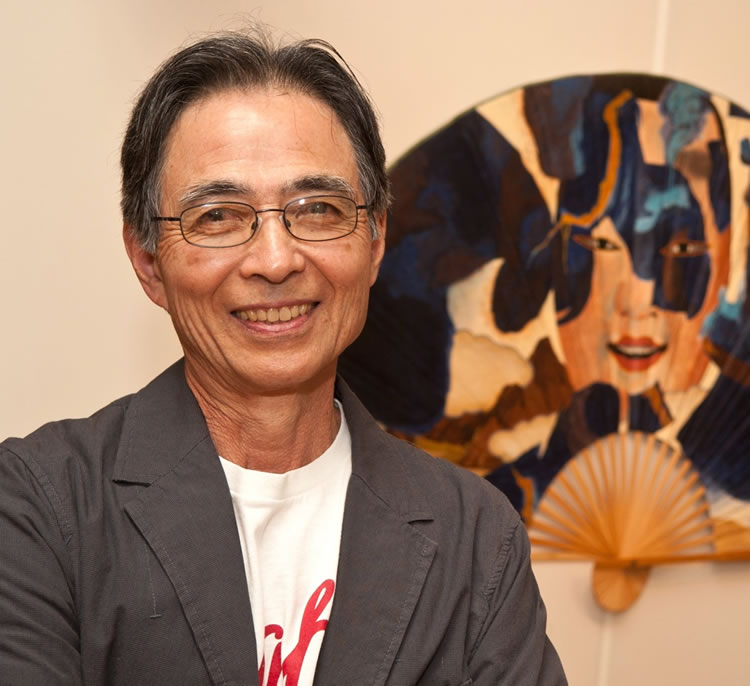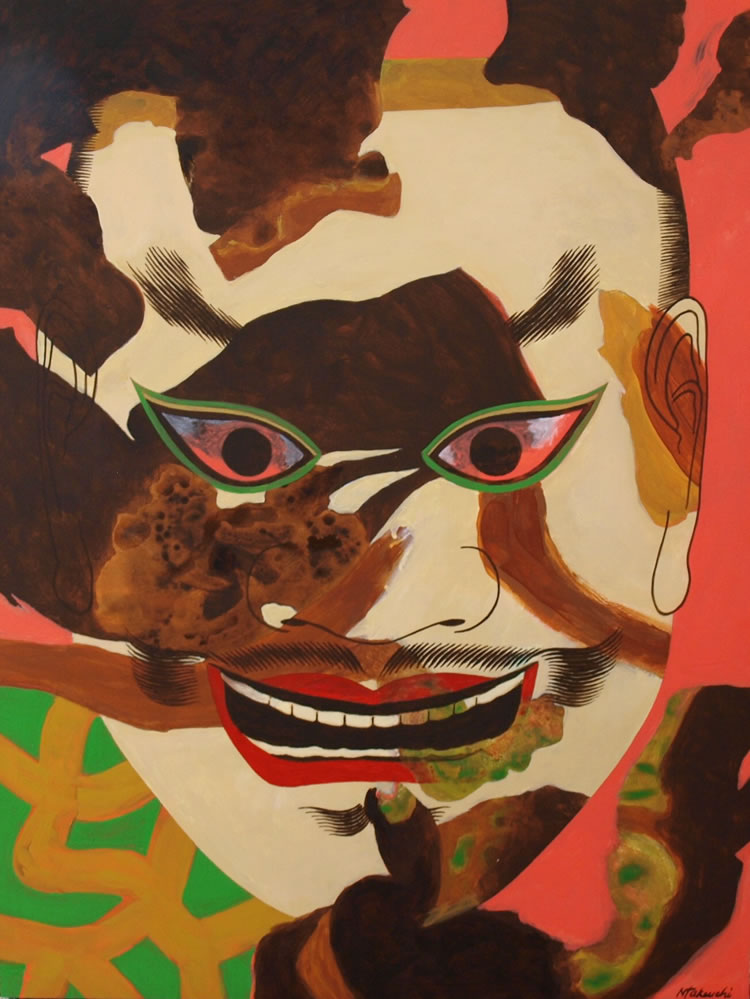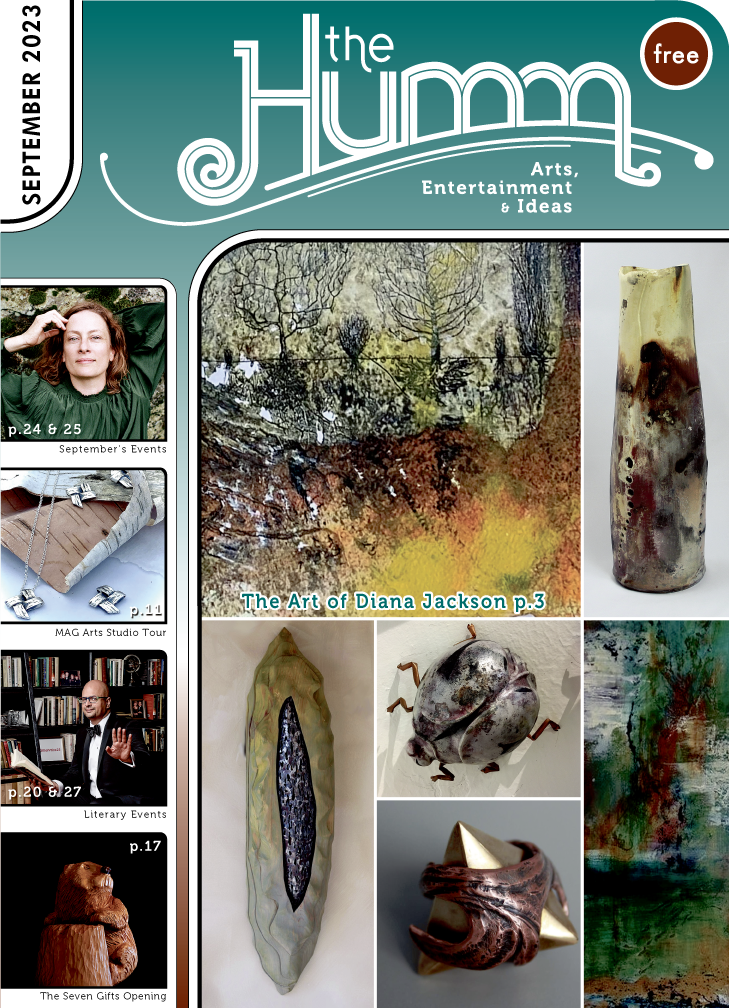 (pdf)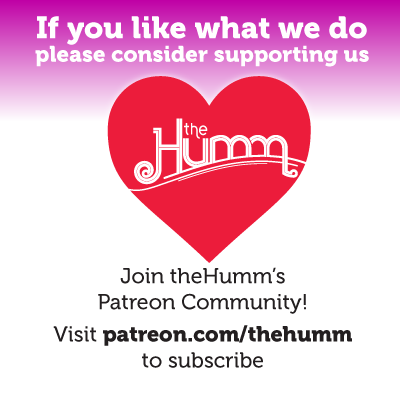 September 2023