Speaking Volumes by Ottawa Valley Librarians
In this regular column, Ottawa Valley librarians contribute articles and suggest related reading material that we feature exclusively here on the website.
Past Columns
September 2014: Karen DeLuca, Chief Librarian, Arnprior Public Library, Begin Your Journey!, including Karen's current favourite picks for readers of all ages.
August 2014: Meriah Caswell, Manager of Library Services, Carleton Place Public Library, Your Books, Your Library, Your Community, including suggested books on the themes of Creativity and Innovation.
July 2014: Elizabeth Goldman, CEO, Perth & District Union Library, Creativity & Innovation at the Library, including suggested books on the themes of Creativity and Innovation.
June 2014: Pam Harris, CEO/Chief Librarian of the Mississippi Mills Public Library, A Fellowship of Libraries and Community, including suggested books on the themes of Home, Community and Belonging.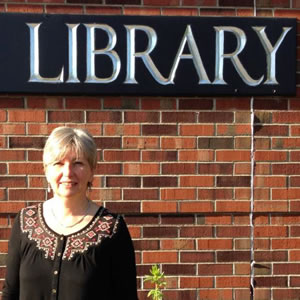 Karen DeLuca has been working at the Arnprior Public Library for more than twenty years, including eight years as Children's Services Librarian, and has been CEO since 2009. Karen's background is communications and technology; she enjoys sourcing new music, bands and artists, and would love to find more time to knit and kayak - although not necessarily at the same time!
Online Exclusive: Karen's current favourite reading picks for for kids and adults can be found below.
Begin Your Journey!
The journey through arts and culture in your community begins by walking through the doors of your public library. Amidst the traditional resources of books, magazines and DVDs, and the new technology of eBooks, online databases, and even Makerspaces (featuring 3D printing), libraries are the cultural hub of a community. In addition to the book launches, author presentations and readings for which libraries have long been associated, we are now offering musical performances, art shows and more, as part of our mandate of lifelong learning, education and leisure.
Libraries are adept at partnering with other institutions, organizations, community groups and individuals. Your library has passes available so that your family can discover some local and national museum treasures in Ottawa for free. If you're new to a community and looking to connect with people with similar interests, chances are your library will have a meeting space in which artists, knitters, photographers, gardeners and others gather on a regular basis. Many libraries have purchased performance rights for movie events, while others encourage the community to gather and celebrate special moments such as Olympic coverage.
Four years ago the Arnprior Public Library underwent a major expansion into the lower level. The renovations nearly doubled the library's public space, providing the opportunity to undertake a variety of cultural programming under an umbrella entitled Arnprior Expressions. This series introduced a long list of cultural programming. Partnerships with organizations such as the Ottawa International Writers Festival brought the traditional book launches, author presentations and readings to a whole new level. Successful, standing-room-only musical performances within the library's open spaces launched a new fundraising campaign to replace some book shelves with moveable units, allowing the library to completely transform its space for a variety of functions.
Take a look at any bookless walls within your town's library and you're likely to discover the creativity of local artisans. Within the past few years, the Arnprior Public Library has transformed a usual busy Saturday destination to include an art show. Artists set up their work throughout the library, inviting discussion about the creative process. They then showcase samplings of their work in the library's Art Corridor. This gallery currently features work by artists who will be participating in an upcoming fall studio tour.
Each library will find its own rhythm of culture in the community - explore your library to discover your cultural hub!
Karen's Reading Picks
To pick up any of these titles, check your local library or enquire about inter library loan.
Picture books
Fiction
Non-Fiction